What is a Zine? 
A zine, short for fanzine or magazine, is a DIY* subculture self-publication, usually made on paper and reproduced with a photocopier or printer. Zine creators are often motivated by a desire to share knowledge or experience with people in marginalized or otherwise less-empowered communities.
Image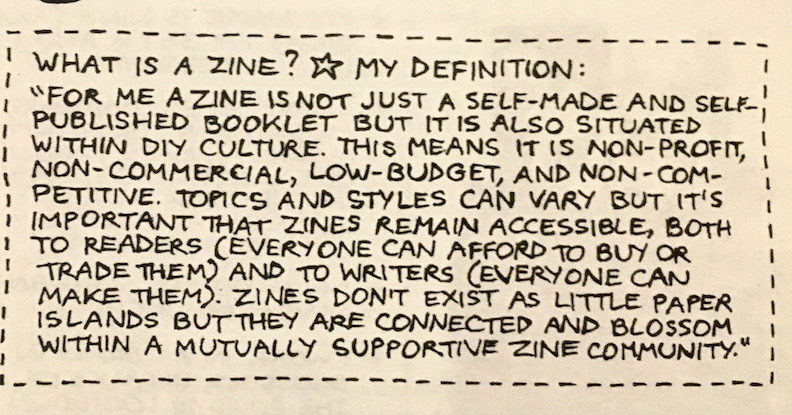 Nijsten, Nina. Scissors & Chainsaws No. 2 : Diary Comic Zine Made in July 2020 During International Zine Month. Gent, Belgium: Nina Nijsten, 2020.
"I'm not even trying to be dramatic, but to the world at large, I am a freak. My voice is downplayed, ignored and/or made into a joke in the mass of verbal and physical disapproval that bombards me every day when I leave the safety of my house or make the stupid decision to read a newspaper, magazine or turn the television on. When I am out of my element, I am told that my very existence is wrong or problematic because I am a fat, queer, mentally ill, politically radical woman with very little money and little to no regard for beauty standards and so on and so forth. But you know what? I am so NOT fucking SORRY. As long as myself and others are disrespected, invalidated, unsafe and ignored by the masses, my experiences, ideas and opinions need to be heard and I will keep on talking this shit and it is not going to be pretty. Besides, how else are these stories going to be documented? With the exception of the gay rights movement, these stories will most likely not be found in any future history books, and if they are, they will most likely be totally inaccurate. Now I know that this zine will not go much beyond the zine reading community, but this is where I have chosen to start and it's something which is always better than nothing."
Jenny San Diego. Not Sorry, #3. April, 2005. Portland, Oregon.