Collection Access & Circulation
Where are the Zines? 
Once you get here, remember that there are two sets of zines: stacks and special collections.
Image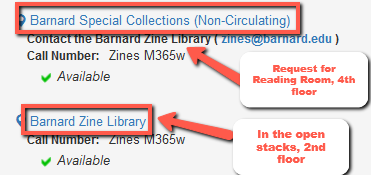 The stacks are located on the second floor of the Milstein Center for Teaching and Learning.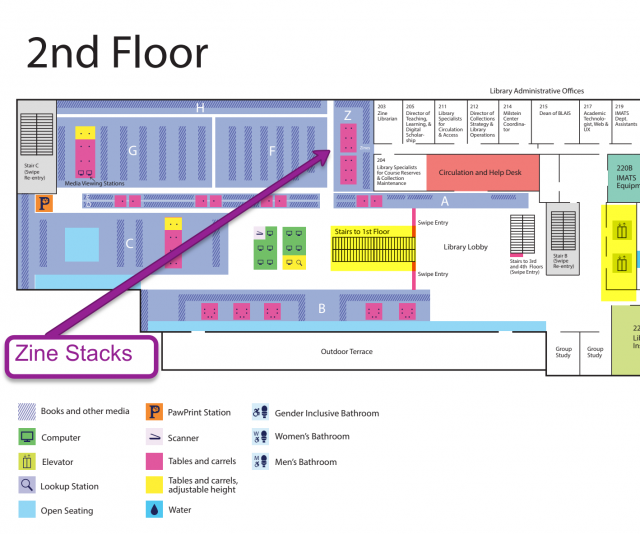 Most of the books in the Columbia libraries have a Library of Congress (LC) number, e.g., LD7033 .W47, in which the first letter or two tells you the main subject matter of the book. The part of the LC number that comes after the decimal point is called the Cutter number, and it tells you the initial of the author's name and some other information. (If you're interested, Charles Ammi Cutter came up with this scheme for shelving items by author or title to subdivide large classification systems like LC or Dewey Decimal.)  
Zines are shelved by Cutter number alone, because the first part of a zine's call number is always "Zines," e.g. Zines B68s.  When reading a Cutter number, it's useful to imagine it as if it had a decimal point in front of it. Or think about the way a computer lists files numerically, as if they were decimals, so the numbers 1, 2, 3, 14, 15, 23, 37, 208, 341 would be listed:
1
14
15
2
208
23
3
341
37
Here is an example of a zine call number range, in the order you would find them on the shelf or in a box in special collections:
B68s  /  B68y  /  B731  /  B74a  /  B746j  /  B75t
A zine with a call number of B731 would be in the box with the call number range of 'B68f-B74a no. 15.' Note that B731 comes before B74a.
Special collections zines must be requested ahead of time. There are approximately twice as many zines in special collections and hundreds more that haven't been processed yet and are not yet listed in CLIO or are listed, but not yet in the stacks. If there is something in particular that you are looking for and can't find it, please email the zine librarian.
Who can borrow zines? 
Zines are subject to the same circulation regulations as other materials in the Barnard and Columbia libraries. People with BC/CU ID, people in the BorrowDirect network, and MaRLI can borrow zine for a semester at a time, plus renewals.
Can the zines be loaned to other libraries?
Stacks zines are available via Interlibrary Loan. Please go through the normal ILL channels at your local library.
How can I search for zines through Barnard Library's online catalog?
Access Columbia Libraries Online Catalog (CLIO). Visit clio.columbia.edu/catalog, which will take you to a page that gives you the option of doing a basic or an advanced search. (These instructions are for a basic search).
Enter the name of a specific zine, omitting the initial article (a, an, the, el, la, etc...) or conduct a general search by using other keywords.
Click on the Title to see the zine's record.
The zine's record contains information about the zine: its author, its call number within the Barnard zines stacks, its subject headings, a short summary of its contents, and more.
I am looking for a particular zine. Will it be in the catalog?

Many of the zines available are currently in CLIO, but some others have yet to be processed. When in doubt, you can always ask the Zine Librarian.
Keyword search tips
You can also do a keyword search, combining one of these terms:
"art zine"
"catalog zine"
"compilation zine"
"DIY zine"
fanzines
"literary zines"
mamazines
minicomics
"personal zines"
"political zines"
"school zines"
"split zines"
or just <zine?> (the question mark is for truncation--it will yield results with the word "zine" or "zines" in the citation or abstract)
For example, <zine?> and your topic, e.g. "body image," "privilege," "race," "recipes," "riot grrrl" will yield results that are zines of those topics.
Many zines are not yet cataloged, so if you are looking for a particular title or topic that is not in CLIO, please ask for help.
Can I make copies of the zine for my personal use or digitize them without permission and upload them to the Internet Archive or wherever?
Zine Intellectual Property Considerations
"Reproducing/reprinting all or any part of this zine without prior consent will be considered utterly disrespectful and generally uncool." - Aqsa Zine #4 Ancestors + Descendents. Sept. 2011. Print.
Researchers may scan, photograph, or otherwise reproduce zine text and images for their own use. Researchers may not publish zine images or substantial amounts of text in print, on the web, or in any public format, without making every effort to secure permission from the zine creator. If the zine creator is deceased or difficult for the researcher and zine librarian to locate, discuss other options with the zine librarian.
All zines are protected by copyright unless they contain an anti-copyright statement.
Read and contribute other special zine copyright/fair use statements on the Zine Libraries website.
Do you have a mailing list for programs, events, workshops and other zine stuff?
Yes! Sign up at https://groups.google.com/a/barnard.edu/forum/#!forum/zine-list (you will need a Barnard UNI to do this on your own. If you don't have one, email zines@barnard.edu to be added).
Another way to keep in touch with us is by following us on Facebook, Instagram, and Twitter.
The Zine Collection is housed within the library, so our hours are the same as those for the rest of the stacks.
Postal Address:
Barnard Zine Library
3009 Broadway (enter the campus at 117th St.)
New York, NY
10027