The zine displays, up on the 2nd floor!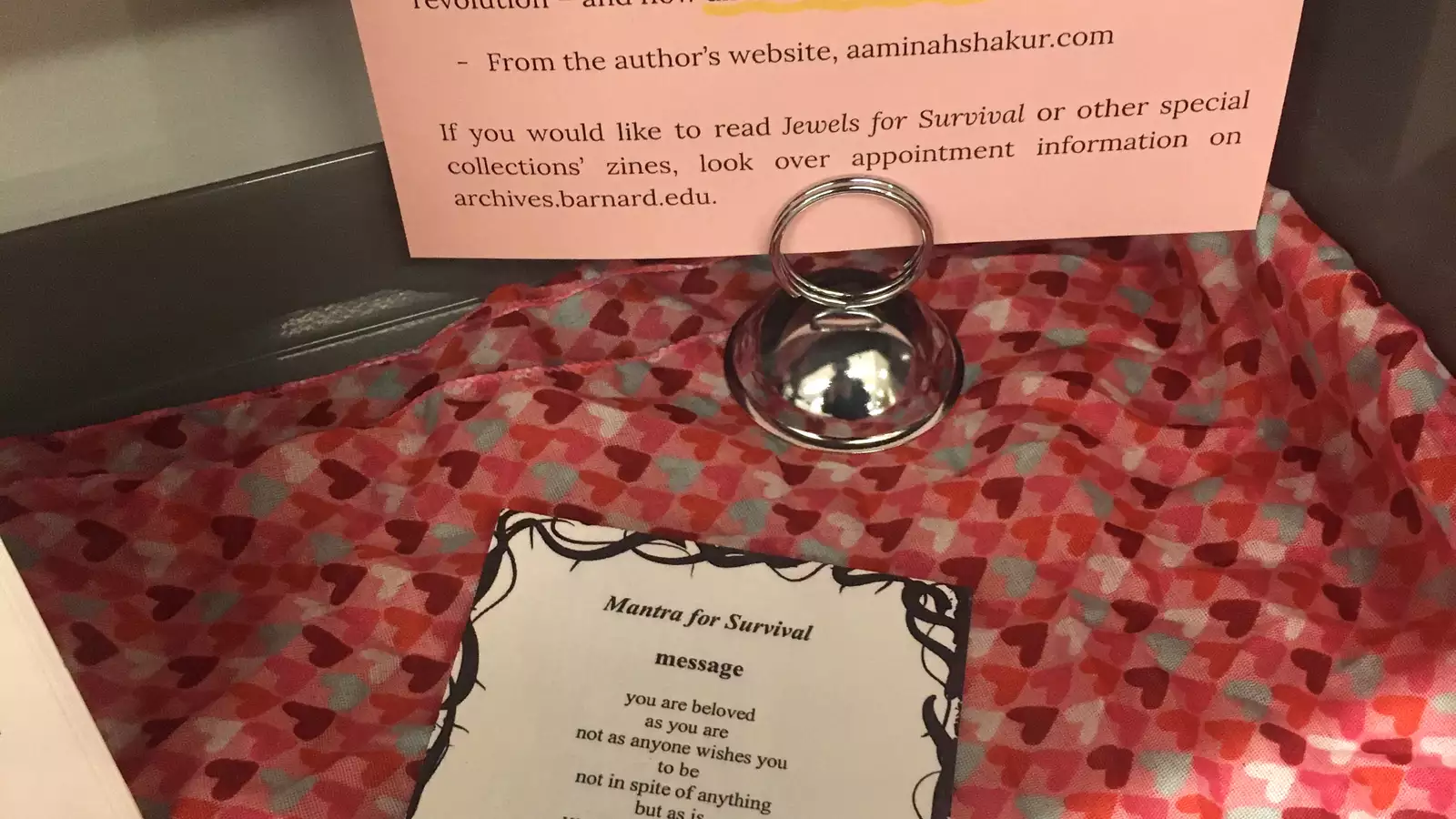 For the month of November, I've put up three separate zine displays in showcasing zines made by Indigenous women and queer zine makers (the upper purple shelf), alongside staff picks and zine reviews from all of us at the Barnard Zine Library in showing off our recent faves in the collection (the shelf below that one!). 
In recognition of the National Day of Mourning coming up this weekend, BZL wanted to foreground zines by indigenous women and nonbinary authors. Their poetry, visual art, personal writing and first-person reporting delve deeply into topics like white colonialist academia, direct action against oil pipelines and protests against police brutality, motherhood and the creative process, and queerness and coming out. In doing research through our catalog, reading these zines and making use of native-land.ca, I created a list of the Indigenous tribal groups represented in our zine collection: 
Diné (Navajo)

Clans within the Diné represented include:

Naakai Dine'é (The Mexican People)

Kinłichíi'nii (The Red House) 

Tódích'íí'nii (Bitter Water)

Naasht'ézhí Tábąąhá  (Zuni Clan Water's Edge)

Niitsitapi (Blackfoot Confederacy)

Maya Yucateco 

Kanaka Maoli (Hawai'i)

The Eora
You can find them on the top shelf below the TV in the 2nd floor zine library, backed by deep purple fabric.
From right to left those zines are: Caryatid Rises by Gaynor Taylor (featuring an interview with Marilou Awiakta), Distortia by Niatni, The Nizhoni Beat by Amber McCrary and Melanie Fey, Going Places by Kesheena and From the spilled blood of savages ... comes the mythos of huMAN by Edxi.
The shelf below that display is, excitedly, a new ongoing display series called shelf-talkers wherein us in the zine library staff review our favorite zines we'd read recently!! We're all looking forward to continually reviewing zines on a more-or-less monthly basis, maybe even compiling our reviews into a BZL zine sometime in the future (Alekhya's idea!).
From right to left: The Nun By Olivia Fredricks (Grace's!), The Fig Tree by Leila Abdelrazaq (Alekhya's!), Looking Back: Comix 1995 → 2002 by M. North (Mine!), Anxiety is my Lover by J. Hatton (Jenna's!), Chronicles of an 8th Grade Mall Goth by Suzy X (Nayla's!) and Don't Call me Sweetheart by Alison Swanitz, Anna Hughes, Claire Lane, and Mary Yan (Mikako's!)
 The third display is a bit smaller but might be my favorite, showcasing a special collections' zine Jewels for Survival by Aaminah Shakur, an Indigenous, Muslim artist and writer. Since their zines are in the special collections, I printed out scans of the cover to give you all a little sneak peek -- you can make an appointment to read their poetry perzines by emailing the archives staff at archives.barnard.edu! Aaminah Shakur's writing about their life during this period, her collage art and poetry are deeply touching, you can feel the intention in every letter, I would highly recommend checking them out or engaging with their other works online. I got these extremely adorable pink heart matching scarves at a thrift store close to my apartment, I'm really looking forward to making the most of them. 
That's all of it!!! I really missed putting together displays like these and I'm looking forward to putting more together over time. If you have an idea for a future display, or you'd be interested in writing a zine review for a shelf-talker, feel free to shoot me an email at cacosta@barnard.edu. <3