The Barnard Zine Library has over 5,000 circulating zines in the stacks in the Milstein Center, and has over 11,000 non-circulating zines in the Barnard Archives & Special Collections! If we hold only one copy of a zine, it's in the Archives; if we hold two copies, there's one copy in the Archives and one in the open stacks on the 2nd floor of the Milstein Center.
Over winter break, at the end of the Fall 2015 semester, we moved from our former home in Lehman Hall to our swing space in the LeFrak Center, where we had limited access to our non-circulating zines, as most of the Barnard Archives were moved temporarily offsite. We were able to recall 10 boxes of zines per week from offsite storage. (That was about 7% of our collection at a time.)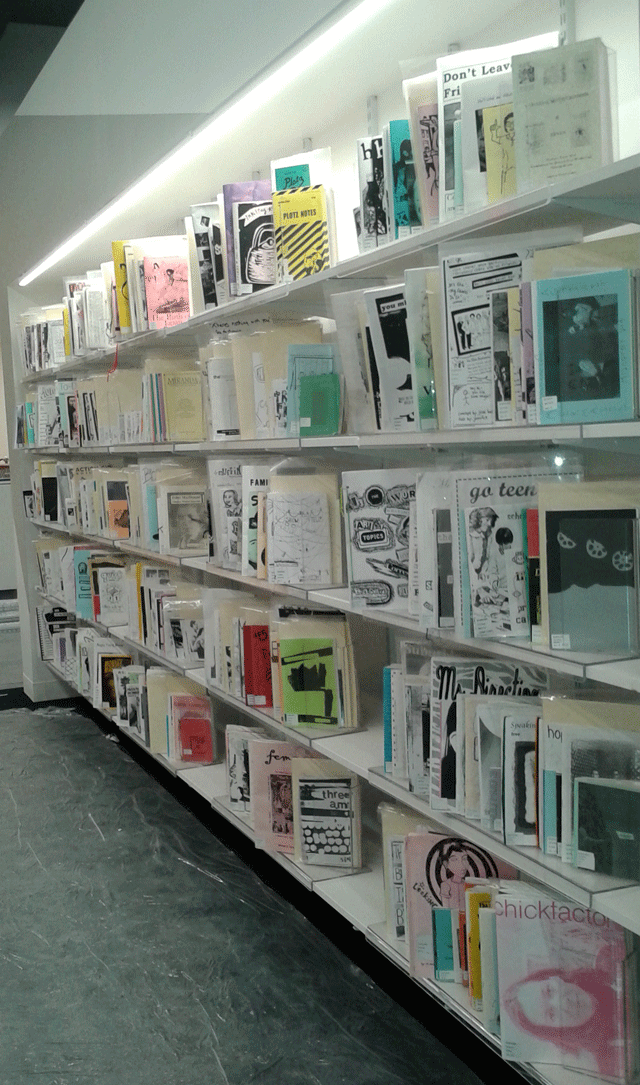 This posed a new type of problem for us, as we had to come up with a new way to keep track of all of our zines. For the two years while we were in LeFrak, we couldn't just run downstairs anymore to find a zine for a researcher on short notice — and if we had a recently-acquired zine that had been freshly catalogued and was ready to file away into the Archives, there was a good chance that we didn't have the proper box on hand to file it into. 
What we were going to do? The answer would require a lot of organization, cooperation, and conditional formatting.
In the Spring 2016 semester, we developed an online spreadsheet to coordinate all the details: where newly-acquired zines were in our offices, when they were entered into our cataloguing system, which Archives box they would eventually end up in, and when they made it to that box. Zines staff used this spreadsheet from March 2016 to March 2019 to coordinate with the Archives, assist researchers, and keep track between ourselves of our own internal zine movement. 
Now that we're settled into our new Archives and zine spaces within the Milstein Center, we no longer need to use the spreadsheet, because all of our zines are all finally together in the same place in the Archives!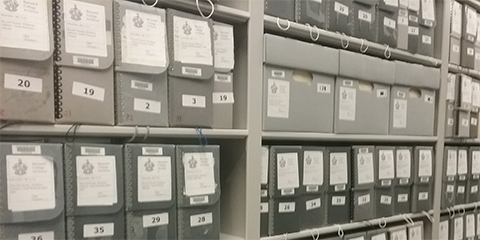 During the six semesters and two summers we used the spreadsheet (lovingly titled "Zines ready for archives / Zine boxes"), we filed 1,660 newly-acquired zines and items of zine paraphernalia (such as notes from zine creators to original recipients) into the Archives! 
We retired the Zines ready for archives spreadsheet on March 4, 2019, 3 years and 1 day after it had been created on March 3, 2016. The spreadsheet was in use for 1096 days, and an average of 1.5 zines were filed away into the archives per day using the sheet.
It's a bittersweet goodbye and the end of an era. We will miss the Zines ready for archives spreadsheet dearly, but are happy that all of our zines are together again!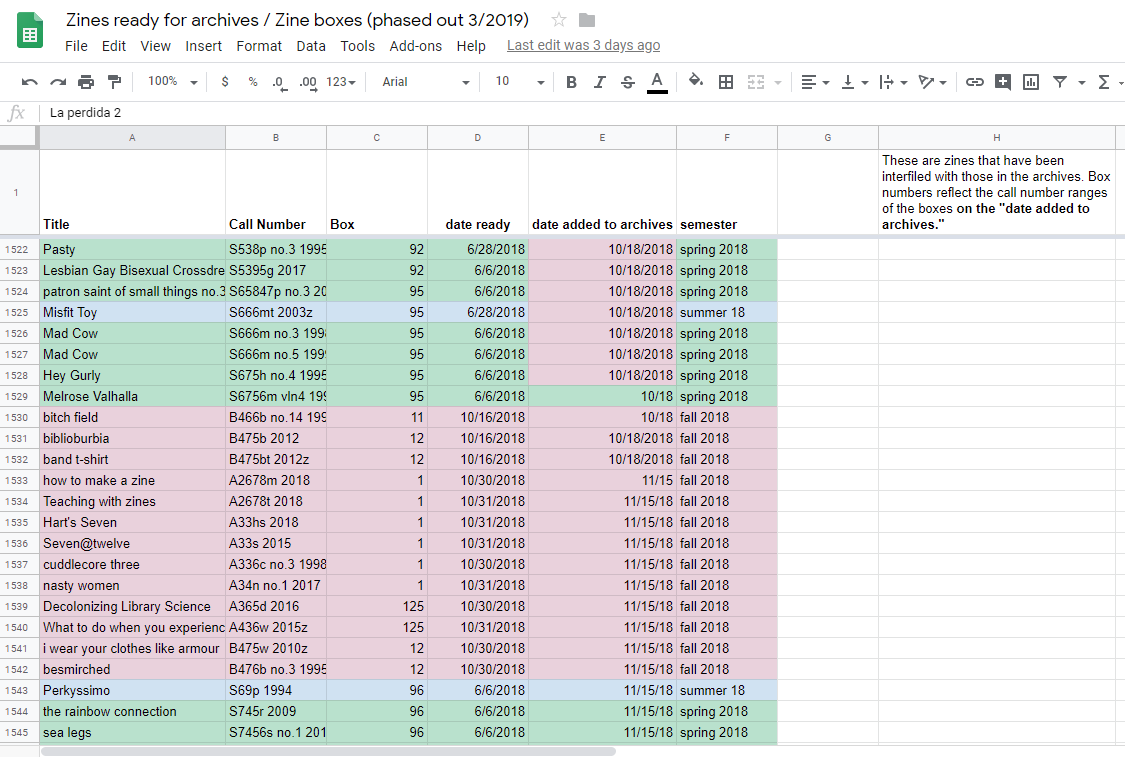 Special thanks to the following helpers for their support with the Zines ready for archives spreadsheet over the past three years: Zine Librarian Jenna Freedman; Barnard Archivists Martha Tenney and Shannon O'Neill; Clancy-Cullen Movers; and most of all, Zine Assistants (past and present) Suze Myers '16, Rowanne Dean '17, Megnot Mulugeta '19, and Julia Rocha '20.
post by Zine Assistant Jade Levine '19 [ed.: Jade was the architect of the spreadsheet and I am extremely grateful and in awe of her care and attention to detail--Jenna]]