We hold a number of zines in our collections made by and for undergraduate student activists, many of which were created by Barnard and Columbia students. For student groups with limited budgets and a desire to avoid censorship, zines are a perfect way to spread information aronud a campus quickly and cheaply. The following zines document student movements, take on campus administrations, and critique activist culture.
This is a list of just some of the many zines Barnard's collection has by and about student activists. Searching CLIO with search terms "student activis*" or "campus activis*" and "zines" can help you find more!
All of the zines below are available from our circulating collection in the LeFrak Center stacks and can be checked out at the circulation desk. Zines listed as available from "Barnard Special Collections (non-circulating)" are currently offsite and can be requested for delivery to LeFrak. Email archives@barnard.edu at least a week in advance of your visit; materials must be requested by 11 AM Thursday.
Click to jump to any of these categories:
Zines by Barnard and Columbia students
Zines by groups at other schools
Zines by Barnard and Columbia students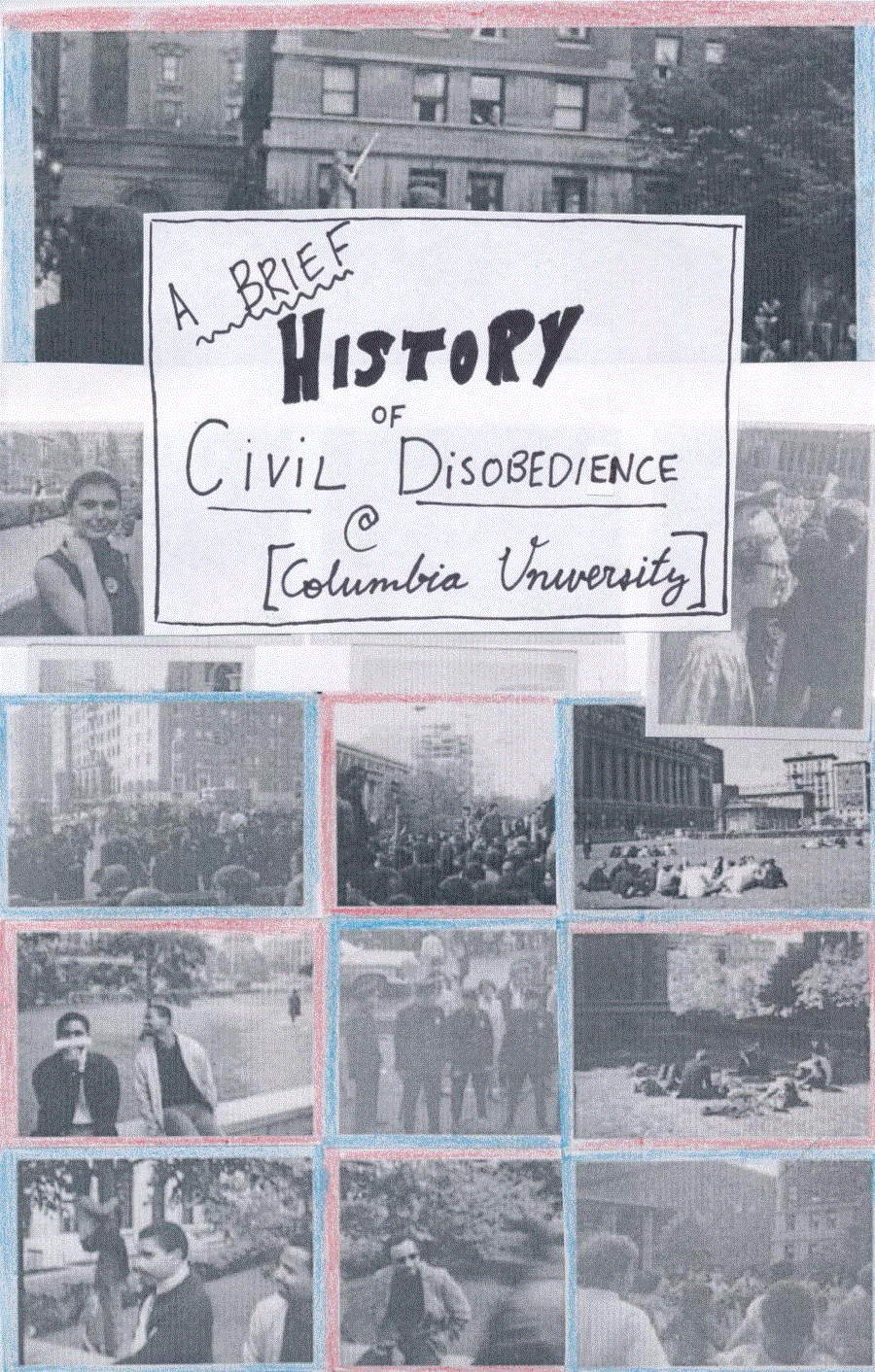 A brief history of Civil Disobedience @ Columbia University
Zines G374b 2016
Maya Garfinkel, Barnard '19, recounts historical events of civil disobedience by student activists at Columbia, including the 1968 Occupation, 1985 South Africa Apartheid Divest Campaign, the 1996 Occupation and Hunger Strike for Ethnic Studies, the 2007 Hunger Strike that resulted in the creation of the Global Core requirement, and the 2016 Occupation of Low Library for Fossil Fuel Divestment. This zine also contains explanation of the tradition of civil disobedience and its relationship to the Black Radical tradition.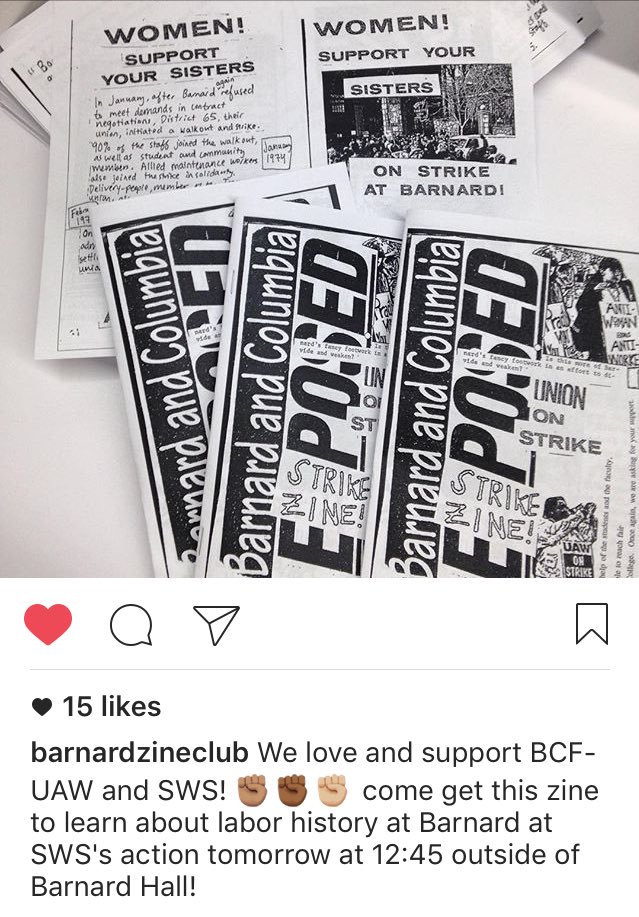 Zines M534r
Columbia activist group Student-Worker Solidarity, with help from the Barnard Zine Club, describes the history of strikes and protests by Barnard employees and students for equal wage pay, paid maternity leave, and job security. The zine also contains information about the birth of SWS on campus. It was created and distributed in 2017 to discuss the 2016 strike authorization of Barnard's new contingent faculty union, BCF-UAW.
Zines S44s
Members of Students for Environmental and Economic Justice at Columbia put together this zine in 2006, which includes their manifesto, policies and procedures, vegan recipes, and a glossary of terms. They deail successful and in-progress campaigns, involving getting recyled paper onto campus; sweatshop labor; and socially responsible investing.
The Toll of Coal: The Fight Against the Settlers of Appalachia
Zines B366t 2014
This black-and-white one-page folding zine was made by the Barnard Columbia Mountain Stewards, a group of student activists from Barnard College and Columbia University who visited Appalachia, VA in spring 2014 to perform water quality monitoring measurements. The zine is double-sided and contains photos, text, and hand-drawn illustrations from and about the Stewards' trip, including tributes to Dairy Queen and Twin Peaks.
Stealing your education at Columbia : a user's guide to getting a free education in New York City
Zines N49 2006
This is an anarchist DIY guide from 2006 on how to take advantage of Barnard and Columbia offerings, even if you're not a student. It includes ideas for study groups with other co-thieves, how to plan your stolen curriculum, tips on how to avoid drawing attention to yourself, and useful links for self-education. It also addresses questions about why making education so inaccessible to people of lower class is unfair.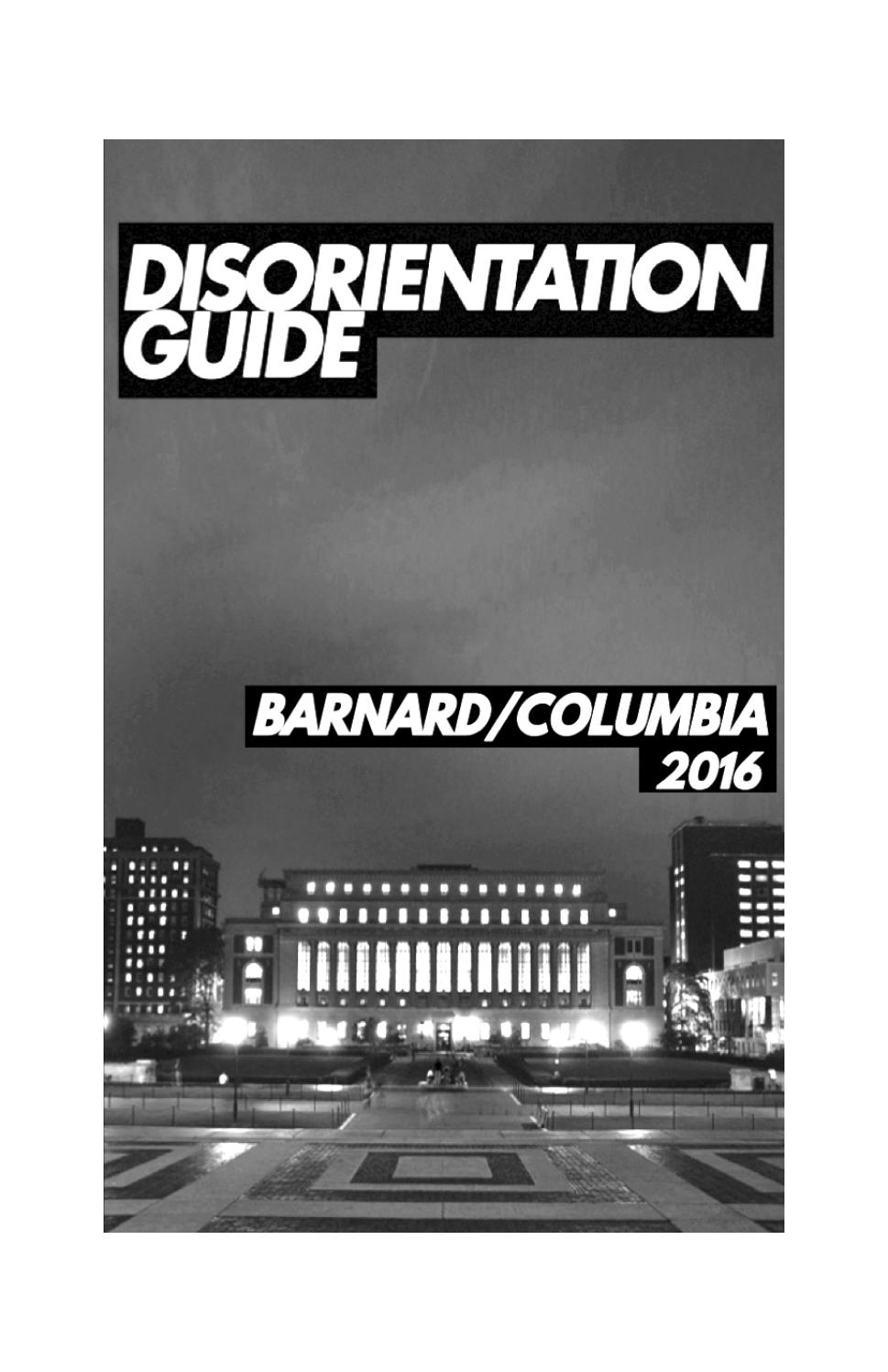 Barnard/Columbia Disorientation Guide 2014
Barnard/Columbia Disorientation Guide 2016
Barnard/Columbia Disorientation Guide 2017
Zines D576 2014, 2016, 2017
Various activist groups at Barnard and Columbia collaborate on these compilation zines distributed to first-years during NSOP describing political issues on and off campus. The 2017 zine includes an account of the 2014 Harlem Raids and Columbia University's role in the heightened surveillance and displacement of Manhattanville residents, an essay about Barnard College's anti-worker stance towards its employees, and resources for support for trans students at Barnard and Columbia. Various activist and cultural groups, such as Mobilized African Diaspora (MAD), UndoCU, Asian Political Collective, Columbia University's South Asian Feminism(s) Alliance, Lucha, and Students for Justice in Palestine, describe their organizations and their campaigns and hopes for the school year.
Zines by groups at other schools
Zines U37c 2012
Written by students of color at University of California at Santa Cruz, this compilation zine responds to the university's cuts to programs that benefit students of color and how white student activists often misrepresent people of color and perpetuate systematic oppression. The zine includes essays about tokenization of people of color, the need for ethnic studies courses, white privilege among student activists, and indifference as a political choice. The zine also contains a list of demands from POC at UCSC , diary entries from a student of color activist, and illustrations.
Zines S839w 2010
This zine is comprised of interviews with six CUNY students of color who participated in R2K during the Republican National Convention in August 2000 in Philadelphia. R2K was a mass protest against police brutality and the prison industrial complex. All people interviewed were involved with SLAM (Student Liberation Action Movement) and some were arrested. Written content is accompanied by photographs.
Zines R35r 2005, 2006, 2007
This zine, by the Women and Gender Studies association at Rutgers University is a compilation of articles about racism, activism, the club's events, mental health, feminist quotes and websites, BDSM, and portrayals of women in the media. They cover topics such as fat discrimination, race and class privilege, Eve Ensler, mail order brides, immigration and Donald Crestiello, the emergency contraceptive pill, and protesting the Iraq war. There are also reviews of books, movies and zines, and vegan recipes. The spring 2005 issue has essays on Eve Ensler and Radical Reference.
Zines B3736m no.4
Courtney, a student at Virginia Tech, excerpts parts of her journals that deal with substance abuse and self-harm throughout high school and college. In an effort to curb her substance abuse, she begins volunteering with NARAL Pro-Choice and throws herself into activism. She writes about a divisive incident during the Take Back the Night March at Virginia Tech in 2001 or 2002.
Zines Y85e no. 6
Yumi, a queer Korean-American nineteen-year-old from Kansas, attends Harvard while still maintaining her roots in the riot grrrl/zine subculture. She writes a lengthy, critical essay on student activism and the Living Wage campaign at Harvard.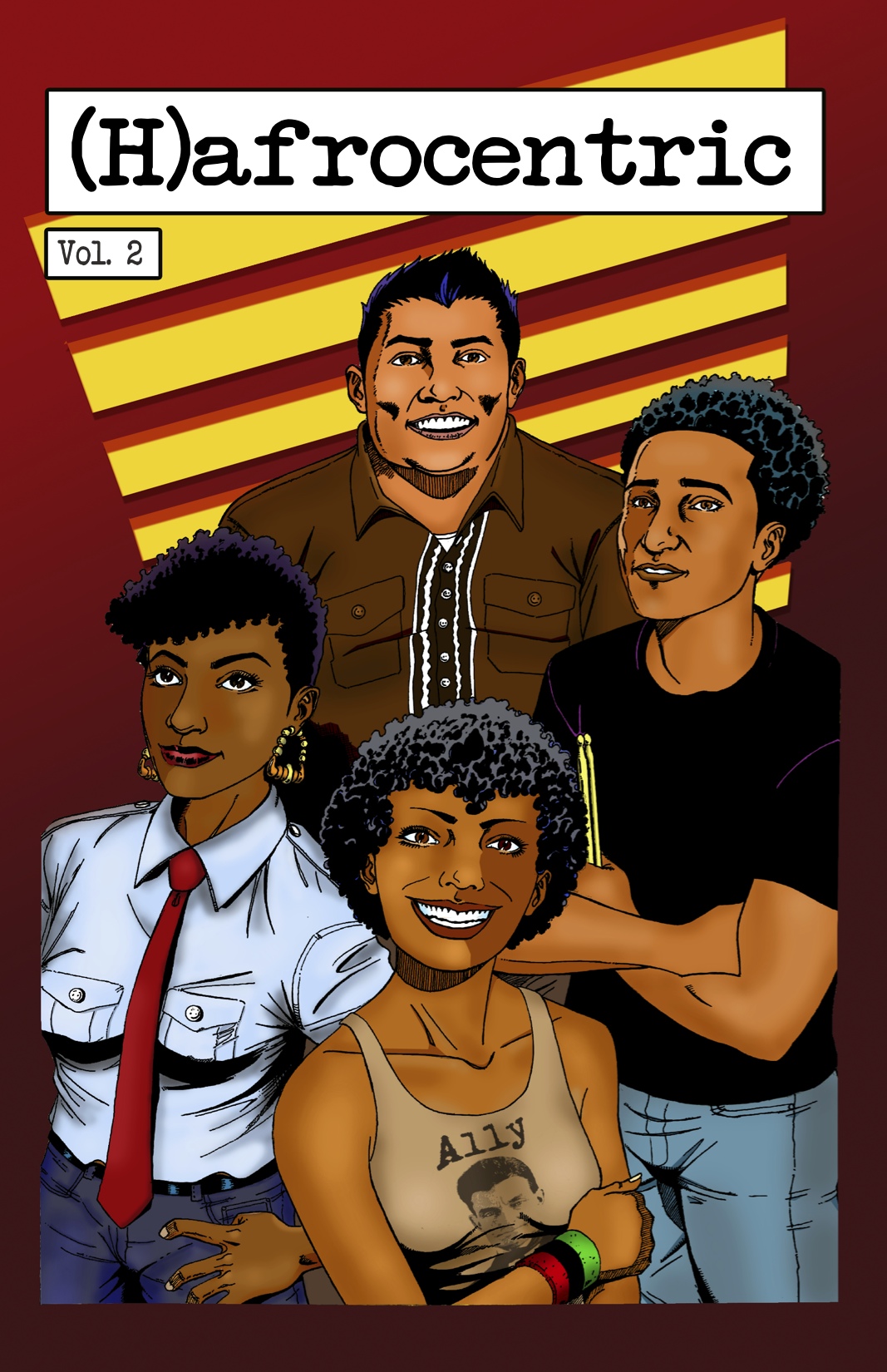 Zines S65845h
(H)afrocentric is a fiction zine focused on Bay-Area college students of color. Naima, a biracial social justice advocate, cooks up revolutionary schemes that her friends Renee and El, and her brother Miles go along with. In issue 1, the characters explore issues of gentrification and colonization in their everyday lives as students at the fictional Ronald Reagan University. In issues 2 and 3, they group plans a block party to fundraise for Naima's anti-gentrification website after El is evicted from his apartment. The zines pokes fun at the mindsets of both radical activists and those they are working against.