Acquired from the Creator
The East Village Inky #58 by Ayun Halliday, 2017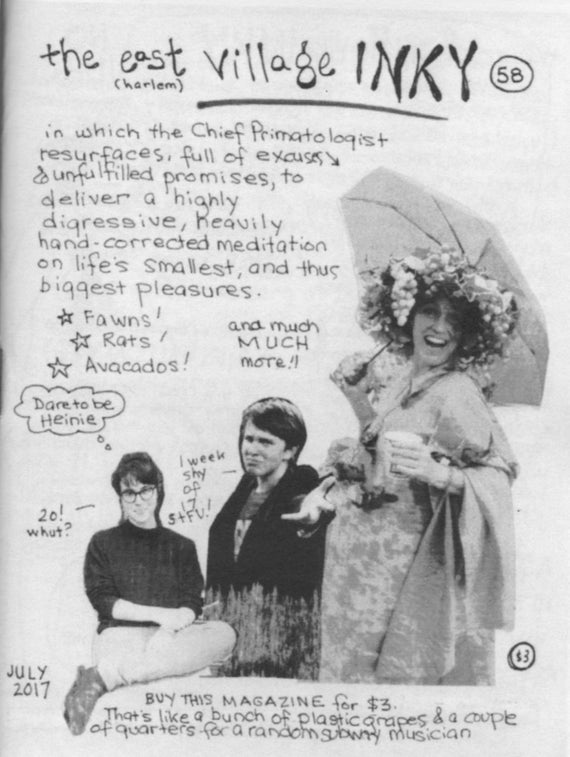 The Oblique Closet: The Queer Side of Emily Dickinson by Elvis B., 2017
[ERROR ACCESS DENIED]: A Few Current Thoughts on the Internet & Black Futures by Malana, 2017
Famous Ladies by Ellen Wallenstein, 2016
Frida 'Zine by Ellen Wallenstein, 2016
Nasty Women #2: Next Generation by Rachel Dohner, Grace Adee, and Crystal Linnett, 2017
Off the Rules by Margaret Brennan, 2017?
Perimenopunk by Michelle Cruz Gonzales, 2016
Queer Sailors #1 & 2 by Kel Karpinski, 2017
Comfort Women: Sexual Slavery in World War II, 2017
The Story of Holocaust Survivors: Miedzyrzec, Poland by Barak Ben-Noon, 2017
 
The Bi's of Colour History Survey Report by Jacq Applebee, 2015
A Feminist Space Is... by Eva Megias and Emma Shula for the Feminist Library, 2014
I'm Not Vegan, but This Zine Is! (And It's Gluten-Free, too): Recipes, Smut, Poems & Thoughts by Jacq Applebee, 201x?
New-to-Us Library of Congress Subject Headings
Comfort women.
Dissociation (Psychology).
Feminism in art.
Gay sailors--Appreciation.
Grandchildren of Holocaust survivors.
Holocaust, Jewish (1939-1945).
Perimenopause.
United States--Navy--Film adaptations.