Gift of the Creator
The Hammer in Our Hamlets: Smashing the Patriarchy of the Left: Part III of IV by Eve Mitchell, 2016
Muffin Bones #21 by Emily K. Larned, 2018
 
Gift of JB Brager
After Exodus: The Jews Against the Occupation Haggadah, 2008
Behind the Hurt Curtain by Keet G, split with There's So Much Greatness by Soen Soen, 2014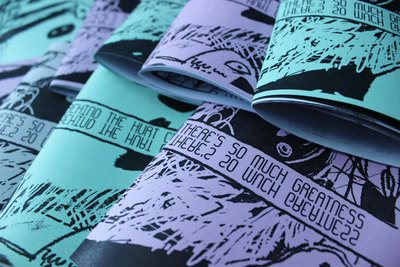 Brilliant Mistake #4 + Your Secretary #8 by Carrie and Jami Sailor, 2010?
G.Nov: CTY 2010: The Graphic Novel Comics Zine by Lynn Huang and JB Brager, 2010
Hex Key #2 by Jami Sailor, 2013?
No State Solution by Rozele, 2003/2004
Not Otherwise Specified by Glenn Marla, 2008?
Ras: Yea. I Want to Read Something Lonely and Horny by Ras Mashramani and compiled by Eighteen, 2014
Sssy Bitch #2-3 by Ruby Voyager, 2012-2013?
Survive by Olivia H.
Your Secretary #4 by Jami Sailor/There Is No Magnificent Creature by Yumi Sakugawa, 2010

New-to-Us Library of Congress Subject Headings
Performance artists.
Weight loss--Social aspects.