25 Words or Less by Moira Clunie, 2002
Five microzines, each individually cut, pasted and rubber stamped.
Record copy cataloged from the National Library of Australia (and edited)!
Arrowed #3 1/2 by Lauren Michele Fardig, 1999
Born Ready #6 by Zhenelle Falk, 2003?
Boshi #3 by Taryn Hipp, 2001
Taryn shares selected LiveJournal posts from when she and her boyfriend were broken up. 
Corrosive by Moira Clunie, 2002
Moira, having a bad day. 
Dear Boy #1 by Erin Nicole Schleckman, 1999
Do Something Pretty While You Can by Teri Vlassopoulos, 1998?
Don't Stop (Stop) #3: Evolution Theory by Gillian Beck, 2001
Friend Haiku Mini Series #1: Amber by Thara Harris, 2001
Thara gets over hating her ex-boyfriend's girlfriend-turned-ex-girlfriend, and they become BFFs.
Hope #17 by Elissa Nelson, 2000
The Hundred Most Influential Writers in My Life to Date, as Best I Can Remember and Mostly Not Including Zines #2 by Elissa Nelson, 2011
Love Letter #4: American Action by Thara Harris, 2001?
Opposite Day: Brainscan #17 by Alex Wrekk/Rock Star with Words #2 by Korinna Irwin, 2001
Making her second one-night zine in a row, Alex does not rely on notebooks of old writing for content, like she does for her more substantial zines. Instead she shares random thoughts like "Avocado and mustard sandwiches are really good. You should try one." There are some more serious discussion points, as well. 
Korinna's side starts out, "It's a cold night in North Portland and I'm working on my third PBR. It's freezing in Alex's house: we are sitting crosslegged beside one another with typewriters in our laps, typing away. New Order's 'Blue Monday' is playing and I am feeling kind of tipsy." She really catches a moment, don't you think? She also explores how she fits into punk, DIY and feminist communities and whether or not she wants to.
Welcome to Alaska by Hayley Alaska, 2000?
Word #6 by Ally Pickard, 2001

Zines by Owner
Ker-bloom! #102: How to Buy a $10,000 House in Six Easy Steps (This Will Take You Four Years) by artnoose, 2013
Punk rock home acquisition in six screenprinted steps.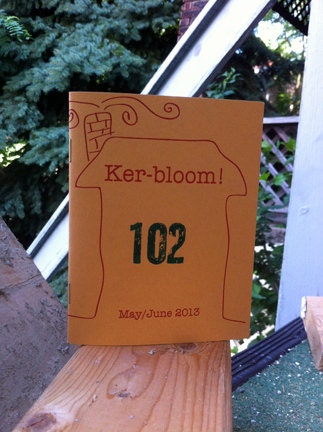 Tenacious: Art & Writings by Women in Prison #29, edited by Vikki Law, 2013
Tomgirl #2 by Judith Jones, 2013
The Triumph of Our Tired Eyes #2, by Amber Dearest/Cheap Toys #10 by Giz Medium, 2012

Amber does a zine residency at the Roberts Street Social Centre in Nova Scotia and tables at Sappyfest in New Brunswick, hitchhiking and getting rides from friends of friend to each location and back home to Montreal. 
"So here it is: I'm envious of dude zinesters who can just tell a story, write about tour, review a show, whatever. I look back at my journal and I see that I've written down every tme I've gotten catcalled or harassed, every time someone lifted my shirt without consent 'coz htye wanted to see my tattoos, every time I was relegated to the back of the room at a show--somehow it always comes back to bein a girl."
Xerography Debt #s 32 & 33, edited by Davida Gypsy Breier, 2013
These issues are indexed--hott!
Zines and Copyright Issues by Jude Vachon, 2010? 
"Many zine authors really engage with copyright issues by making 
"choices
", not just passively accepting standard copyright by not making any sort of copyright statement on the zine (no copyright statement means that standard copyright law will apply, it doesn't mean that the zine is not copyrighted)."
A Zinester's Guide to Copyright, written by Not A Lawyer, Srsly, 2012
"Just remember, copyright will happen to you, unless you do something about it."

New-to-us Library of Congress Subject Headings
Children's literature--Appreciation
Copyright
Dating (Social customs)--Blogs
House buying
Intellectual property
Nausea
Young women--United States--Blogs