Keight's Gift
Cacofonia Deliciosa #2, by Liz Defiance, 1999. 
Catch of the Day mail order catalogs, 1997-1999
Prominently featuring 9" tall sock monkeys made by Rose Melberg. 


Photo from missy cookie
Chocolate Lab #s 1-3, by Alyssa, 1994-1996
Includes reprints of 7th grade love letters from boys who were smitten and bad spellers. 
"I don't like Kendra Don't be jellous I will always love you and nobody else. No lyin. This guy just went for a yell [?]. I'm in Social. My head fuckin kills so much. I love you so much."
Consider Yourself Kissed #s 1 & 2, by Yumi Lee, 1999
"But I guess the whole point of zines is that the kids who write 'em are getting a chance to tell the world what's on their minds. And if ou don't come to huge, startling, life-changing conclusions about human nature and the world and your life by reading a zine, it's okay, becuase that's not the point. At least someone's  made an attempt to connect with you." 
Cory, by Lazy Jane, 1999
It's a typewritten boyfriend fanzine.
Daffodil #19, by Emily Lyon, November 2000. 
Dear Boy...Dear Girl: a Compilation Zine #1, by Erin Nicole Schleckman, 2000?
Deliciosa #s 4-8, by Elizabeth (Liz Defiance), 2000-2003. 
"I am in my bedroom and it's cold, it's been a bad new england winter. this is what I see: a knife, the vogue magazine with julianne moore on the covver, my black boots, the andy warhol diaries, a picture of darby crash, my jane's addiction poster, a doll I've kept on my pillow since I was five-years-old (she's got pale blue eyes and she wears a red velvet frock with white lace collar and big crazy yarn ponytails and her name is elizabeth), my guitar, my black beauty notebook, my aunt's guitar, a really big mirror, a business card for a mexican gift shop on 3rd street in new york, so many CDs, kurt cobain's diaries, a picture of my brother and sister in las vegas, a copy of grimm's fairy tales, my joycam, my silver moon mirror, two windows without curtains, my dictionary." 
...
"i am in a hotel room in hollywood, an almost-seedy hotel and I am alone. this is what i see: a bottle of strawberry wine, my walkman, my luggage, a king-size bed, a tv, cigarettes, books and tapes and tickets, a tiny vial of pink nail polish."
Don't Stop (Stop), #s 1, 2 & 4, by Gillian Beck, 2000-2001
Doris #s 11 & 13, by Cindy Crabb. 
New Zines
Doris, #30, by Cindy Crabb, 2013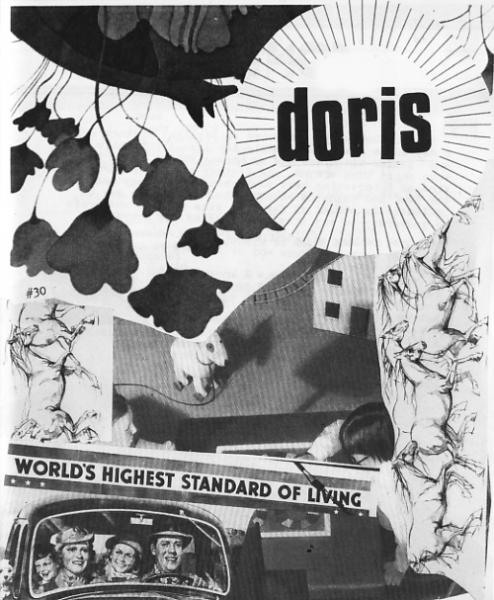 Photo from Quimby's
Muchacha #s 1-3, 5, by Daisy Salinas, 2011-2013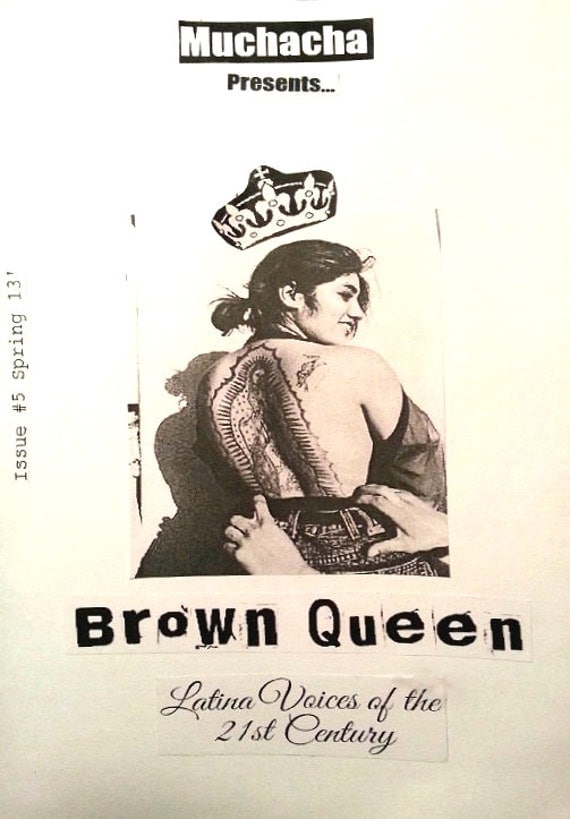 Cover from Daisy's shop