Advice to Myself: Writings, Ramblings, and Essays about Sexuality, Self, Situations, and Communication by (and for) Rich Mackin, 2003?
If you're wondering why we have this zine by a dude, when it's not about feminism or femme identity, it's because the zine serves as primary source background for other zines in our collection, like Allium, below and Baby I'm a Manarchist. 
Allium by Liz Allium (formerly Defiance), 2004?
"Don't bother to write me letters that sat 'Aha! I caught contradictions in your life! You hate capitalism but you buy things sometimes!' ... I'm not searching for purity. I just want to do the best I can, considering I live under a government I hate and am not self sustainable, much as I'd like to be."
Artichoke #8 by Kate, 2003ish?
Includes updates on New Kids on the Block band members current lives. 
Broken Hipster by Emiko Badillo, 2005 or later?

Partial cover image from Queens College Print History Collections
Chronic: a Story About Chronic Illness by Sam Green-Eggs, 2011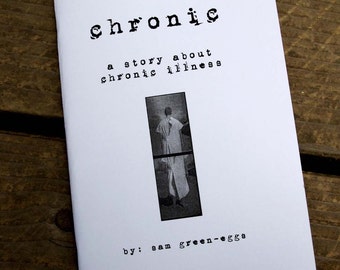 Cover from Chickeney Etsy shop
"My intitial post-college employment plans didn't pan out (*coughcoughPrincetonReviewfiredmebedcauseI'mgaycoughcough*)..."
The Day I Quit Punk Rock by Sarah, 2001
Dregs Hell: Two Years to Mastery in Drexel's iSchool by Bibliophiliac, 2006

Cover from Bibliophilia Big Cartel shop
Junk/Food #2, 4 by Judy, 2003 and 2005

Covers from author's Glitterkitty site
Ms Book's & Ms Bomb's Guide to Street Manners by Mary Tasillo and Michelle Wilson, 2011 & 2012

Covers from Book Bomb blog
"A polite person on the street does not shout at or touch a person they do not know, unless trying to save the life of an endangered party."
The Patron Saint of Small Things #3 by Sarah Smith, 2002
In which recipes call for things like "as much fresh basil as you can handle, MORTAL" and "a heinous quantity of minced garlic."
Rina Zine #5: Summer! Vacation! by Judy and Eskarina, 2004

Cover from Glitterkitty
Stigma #2: Bodies by Midge Blitz, 2011 or 2012?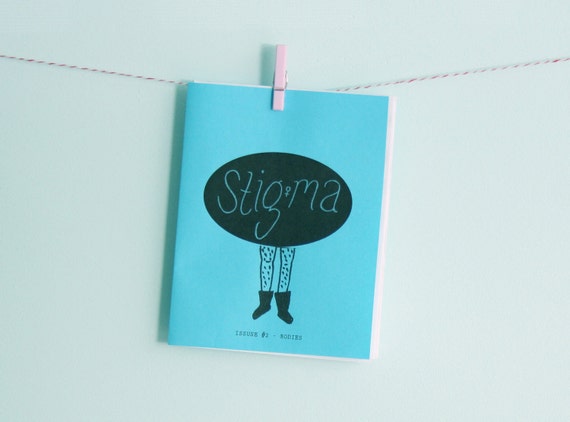 Cover from ModernGirlBlitz Etsy shop
The Streets of Where I'm From: a Natural History of West Texas and Beyond #1 by Meredith, 2004
Tributaries #1 by JC, 2011

Covers from Philly Feminist Zine Fest interview
To Whom It May Concern edited by Anne Elizabeth Moore and Tizzy Asher, Jeff Henry art director
The Vegetable Inside Us All #11 by Anne
Worries: Ridiculous Crap That Makes Me Anxious by Sarah Sawyers-Lovett, 201x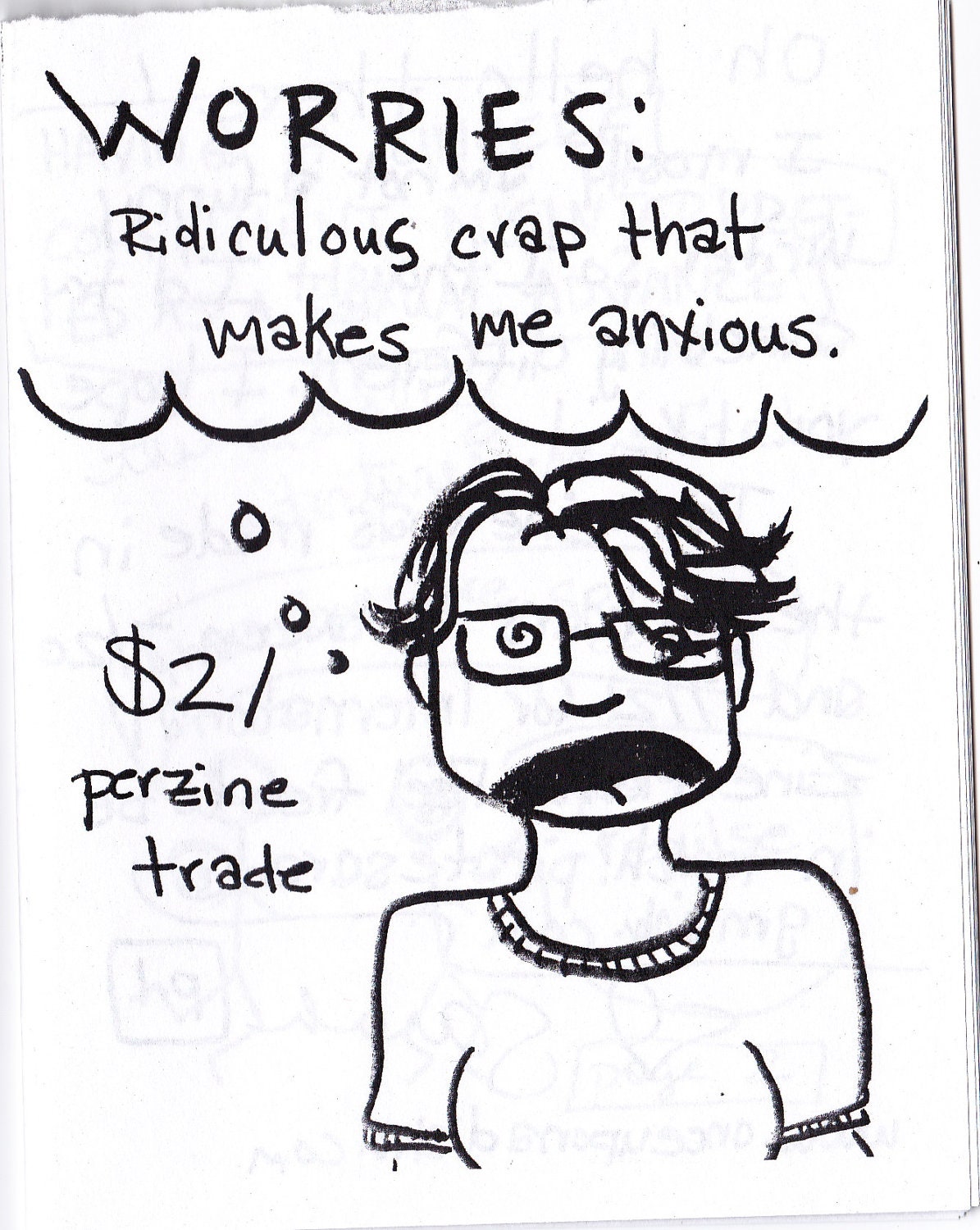 Cover from Lower East Side Librarian blog
Worry Stone #1 by Jerianne, 2008

Cover from ZineWiki

Gift of the Creator
Mini Guide to the Zine Collections of the Pioneer Valley by Alana Kumbier, 2014

Covers from Hampshire College Library

Purchased from the Creator
Adventures in Menstruating: Comic and Poetry Special #1 by Chella Quint, 2013

Cover from Chart Your Cycle
"My [comics] tastes fall neatly between Alison Bechdel's Dykes to Watch Out For and Marvel's Captain America."
"Self-rolled tampons are simply cool."