Secondhand Emotion: a Zine About Love, Anxiety, Gender, Race, and Feelings by Cassandra, 2015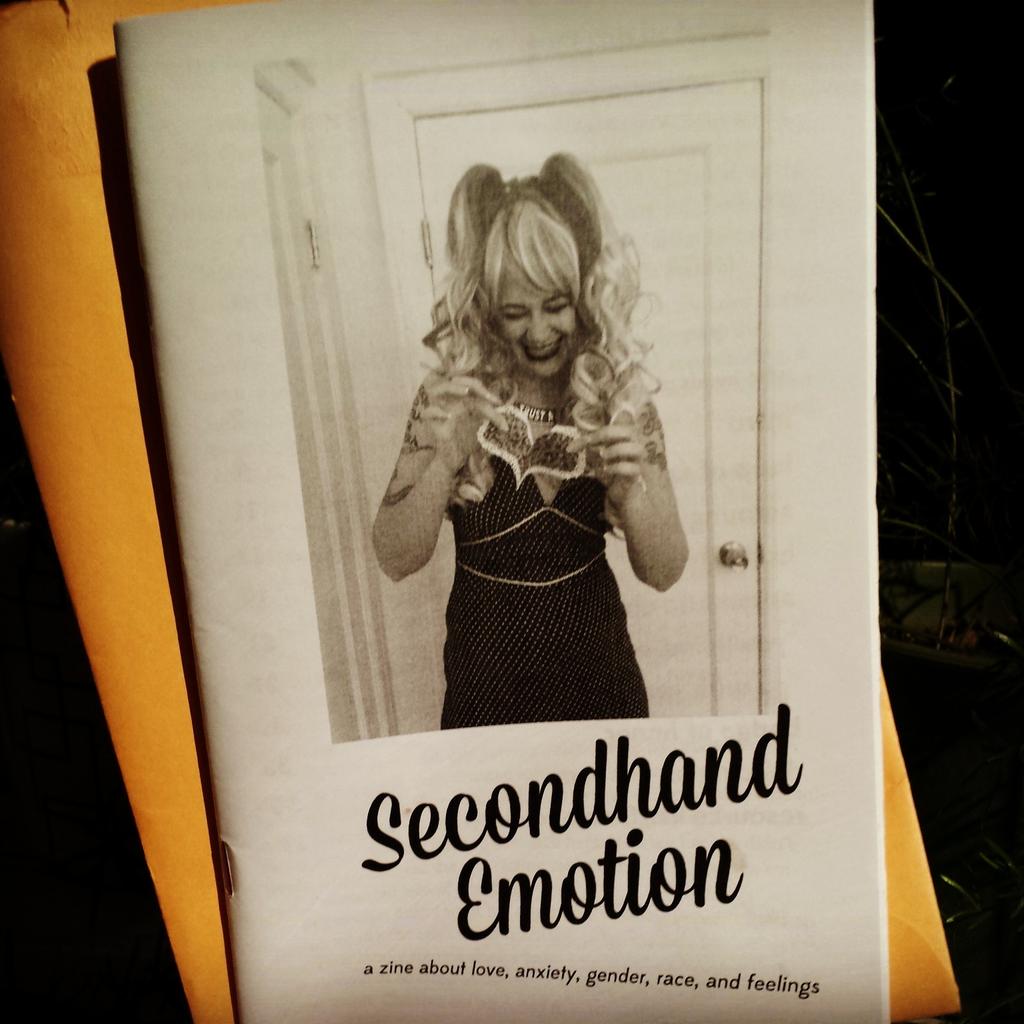 Cover photo from Zine Nation on Twitter
I can't help but think about Beyoncé, and how her feminist credentials are still under question, despite standing in front of a huge sign that said "FEMINIST" at the MTV Video Music Awards in mid-2014. The Ms. Foundation's awarding of "Feminist of the Year" to Emma Watson's basic-as-hell He For She speech, and ranking Beyoncé at #4 (as well as ranking the amazing actor and black trans activist Laverne Cox at #3) seems like a slap in the face of black women everywhere.
Think About the Bubbles #13: Home Body by Joyce Hatton, 2015

Photo from Joyce's shop
 
Gift of Cheryl Tapper
24 Hour Comic Challenge 2011 by Kelly Phillips, 2011

Photo from Kelly's shop
Memorytown USA #6 by Emily K. Larned, 2001?
 
Gift of the Creator
A Few Recommendations for Zines Dealing With Race & Racism written by Jenna Freedman, produced & designed by Tim Nicholas, 2015
Red Hanky Panky 8 & 9 by Rachael House, 2009, 2011

Photo from Rachael's website
In #8 House imagines dog breeds' sexual styles. "Pugs are the ladies number one choice. They're not called 'lap dogs' for nothing."
In #9 she complains "My zine's a failure. It hasn't overthrown the government. Capitalism's strong as it ever was. It's still a patriarchal society. Homophobia's not disappeared. And it hasn't even got me laid."
WAIT--HAS ANYONE'S ZINE EVER GOTTEN THEM LAID?
What Happens Next #14-16 (two printings of 16), 25, 28, 29, 31-33, 35-37 edited by Eve Packer, 1992-2014
 
Purchased from the Creator
Philosophactivism #1 by Toi Scott, 2013?

Cover from Toi's website
We've all heard of the table that's sitting and waiting for us people of color to join. It's had place mats and a glass of water, and maybe even a (culturally irrelevant) salad and appetizer waiting for us for some time some say. Those in lucrative positions and positions of power and privilege keep telling us that they want us to take a load off, break bread with them and let them know what's on our community's mind. They are all ears. We NEED to be at this table that they've created. The table with the nice linens of conveniently, already-made ideology, the polished silverware of entrenched models and old paradigms, the rolled napkins of (pseudo-) peace talks and (our) compromise.
You see, a lot of the folks I know don't want a seat at someone else's table. The very table that is built on assumptions that the marginalized must be taught, can't organize themselves, and need only buy into pre-made models. Na, no thanks.
We want our own table *and not the kiddie table, thanks.

New-to-Us Library of Congress Subject Headings
Liqueurs--History--Comic books, strips, etc.
Marginality, Social.