Since I'm on staycation, but finishing up my Friday cataloging, this is what I was looking at while working.
Gift of Cheryl Tapper
Daddy's Girl #1 by Nikki, 1999
Ghost Girl #2 by Melody, 1997?
Sometimes you read a person's zine and you hope she's doing okay now, fifteen years after her mother told her "you make me sick. you are disgusting." upon that the zine maker was a lesbian by reading her zines and then throwing them plus all the zine maker's music, zines, and letters away.
The Girl Screams by Rachel, mid-1990s?
Girl Wonder #4 by Marisa Giannullo, 1997
Girlz with Gunz #9.5 by Moo, Goofy, and Bertha, 1994
Telegram #26 by Maranda Elizabeth, 2012
Allow yourself to feel jealous and make art anyway.

Cover from Portland Button Works
That Girl #2 by Kelli Callis, 1993

letters page photo from Barnard Zine Library on Flickr
That's a Wrap 2002 by Celia Perez (who I just told about this blog today. Hi Celia! There's a picture of me in your zine.), 2002
Undecided #7: Live from Pennsylvania by Nicole Wines, 2001
Under the Skin: Reconfiguring the Wor(l)d by Amanda Reckonwith and Elizabeth Ann, early 2000s?
Yard Wide Yarns #7 & 8 by Jessica Mills, 1999 & 2001?
On ensuring your child will be a punk, "I found out I was pregnant while on a two-month hitchhiking and train hopping free-for-all."

Cover from Grrrl Zine Network
אישה צעירה (Young Woman) by Shira Mario, 2011
It didn't occur to me that the tradition of Kapparot (the swinging of a live chicken around one's head, meant to transfer your sins to the bird) was not only unusual and inhumane, but something tht even the majority of practicing Jews don't do. I had no idea that there wasn't an excuse for all of the atrocities Israel committed in the name of "protecting" itself. And finally, I believed most of what I was told about women--menstruation is unpure, women should get married and have lots of kids, and they should be separated from men during prayers because they can be distracting.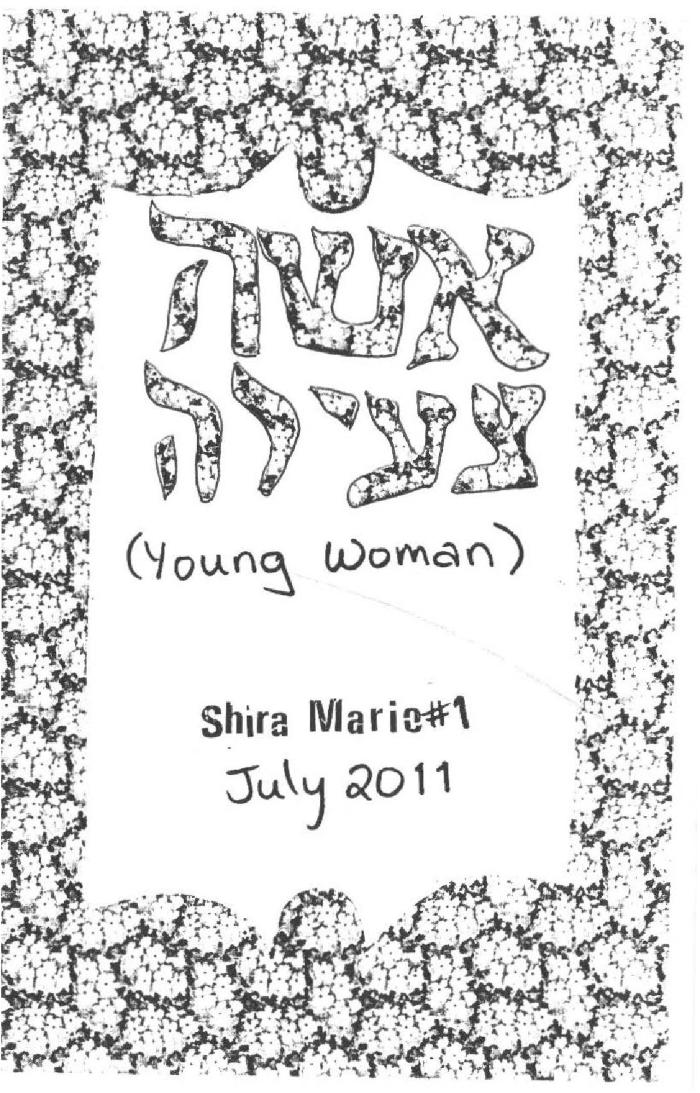 pdf downloadable from QZAP
Sweeping the Stereotypes by Galiba Gofur and Mei-an Lee, 2015
In which high school students examine menstruation stigmas from around the world.
That Weird Artist Chick, vol. 1 by Marla Deschenes, 2012
"The personal is political," as we have all been told at one point or another. I took that idea and ran with it. That is, of course, until what was personal became, well, personal.

Gift of the Creator
Xerography Debt #37 edited by Davida Gypsy Breier, 2015

Cover from Xerography Debt website

New-to-Us Library of Congress Subject Headings
Menstruation--Cross-cultural studies.
Orthodox Judaism.