Gift of the Creator
Archives Creep by Dinah Handel and Hilary Price, 2015
Made by outgoing Barnard Archives Fellows as a gift for archivists Shannon O'Neill and Martha Tenney, this zine contains unprofessional excerpts from a professional email list, stickers and handdrawn illustrations.

Photo by me
LIS Microaggressions Vol. 1 No. 3 edited by Cynthia Mari Orozco, Erika Montenegro, & Simone Fujita, 2015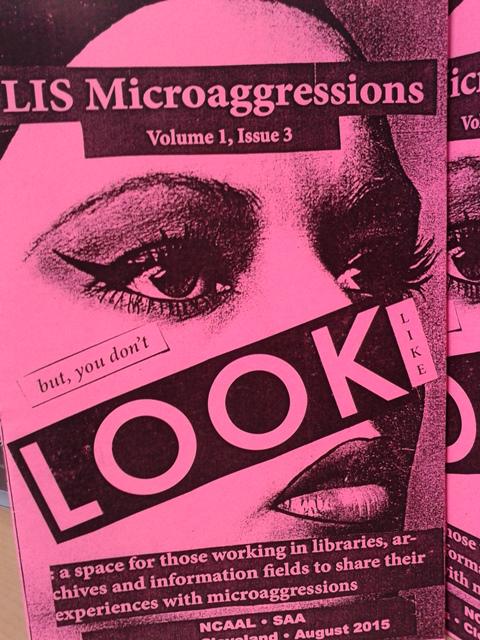 photo by me
In which librarians write microaggressions they've experienced at work on sticky notes and mail them to the editor.
...same boss explained his Speedy Gonzalez-esque impersonation of a Mexican-American wasn't racist b/c his brother is a Mormon Missionary in Africa.
Racist ignorance like this really happens.
Low-Tech Library by Chella Quint, 2006

Cover from Books, Gifts... blog
This zine is dedicted to the libraries and librarians who raised me in the wild, hooked me up, turned me on and kept me company in the stacks: [list].
Syndicate Product #15: Coming Clean edited by A.j. Michel, 2010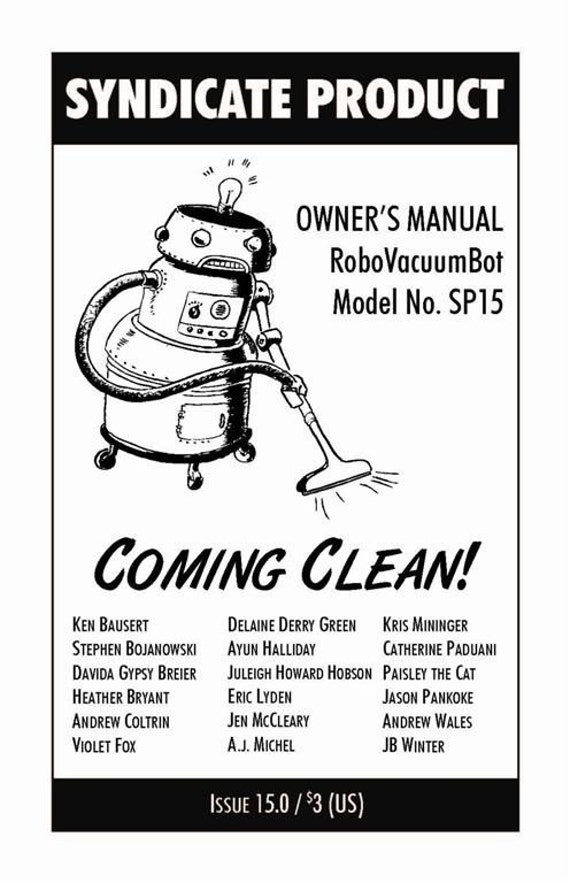 Cover from A.j.'s Etsy shop
Water Underground: Three Weird SF Stories by a Girl Engineer by Penny Cleveland, 2006
On learning to admire Yoko Ono more than John Lennon
put it down to
immaturity,
to demonise a woman   who
wanted to create
peace
and create art
to that effect.

Gift of Cheryl Tapper
Death and Tortillas #14 by Erin McWilliams, 1998
The Deep South Mouth #4: the "Life's a Trip" issue by Coleen Murphy, 2003
D #3 & 4 by C, late 1990s?
Design 816 #8 by Michelle, late 1990s?
Ripe by Cheryl B. edited by Ducky DooLittle, 1996
Instead I drove off and lifted the leather man's face out of my crotch by his hair wishing he was a girl, preferably Sylvia Plath. Why couldn't Sylvia Plath have been licking my clit that night as I drove down Rt. 35?
Wasted Style #10 & 11 by Jamillah James, 2000

New-to-Us Library of Congress Subject Headings
Microaggressions. (proposed to the Library of Congress by your zine librarian!)