Gift of Kristie Miller
Highest Population of Rock Stars #11 & 14 by Amy Greenan, 1998 & 2003
I'm Not Waiting #3: the Mesmerizing Issue by Rachel Kramer Bussel, 1998
It's the Welland Zine Library, probably by Jen Pilles, around 2004
Jackpot! Fanzine #3? by Miss Hell (Bent), 1997
"Contributions are welcomed, however, we do not, under ANY circumstances accept POETRY or PROSE."
Ketchup #11 by God S. and Mad Am, 1996?
Nameless Goddess #2 by Isa Morgan, 199x?
OutRun by Courtney, ?
PepG!rlz by Siobhan, 1990
Riot Grrrl Press Catalogue early 1994 by Erika Reinstein and Mary Fondriest, 1995
Round Things Roll #2: Asleep with Both Feet on the Wheel by Allison Williams, 2003?
Silver Shorts Comix #1 by Amy Greenan, 1996
Dialog in one comic cel:
"This is it? It's so tiny. I can hardly believe it."
"Hey, thanks a lot."
"I'm sorry. I mean it is nicer than most places I've seeen in New York, though. It's cozy. How much is rent again?"
"Eight-hundred fifty."
"Wow! That's a whole house n Buffalo. At least you're in a nice neighborhood."
"Yeah, and at least I'm here and not in Buffalo."
Sin on Wheels #1 by Christy, 2002ish
Excerpt: My Bike and My Body
Spitshine the Eye by Jen E. Gonzalez, 1999?
Your Co-Worker Could Be a Space Alien by Tana Kellner and Ann E. Kalmbach, 1985

Cover from WSW
"4. Misuses everyday items. 'A space alien may use correction fluid to paint its nails.' said Steiger."
 
Trade with the Author
Everything Is Fine #1 by Nyxia Grey, 2014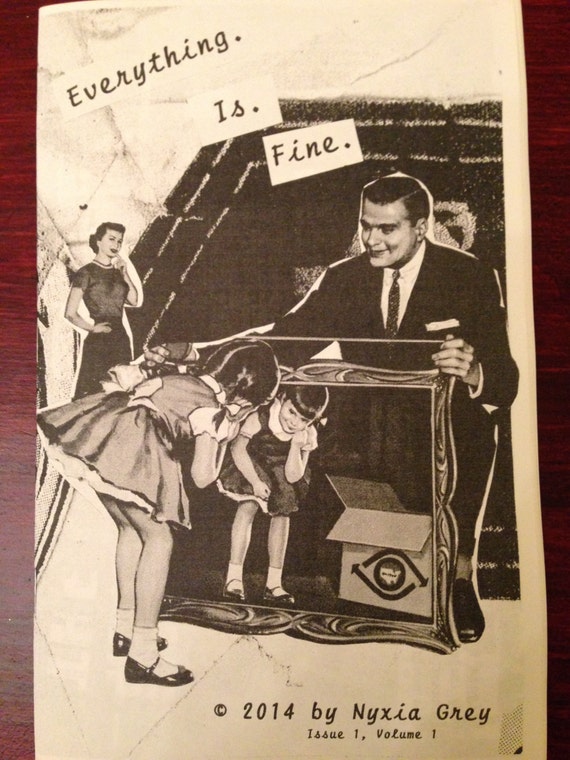 Cover from ZinesbyNyxia

New-to-Us Library of Congress Subject Headings
Extraterrestrial beings.
Neopagans.
Sewing.