From the Creator or a Contributor
Bargain Shopping: a Thrift Story... by Kristin de Leon, 2014?

Cover from Kristin de Leon's Tumblr
History of the Bearniverse: a Journey Through Time and Space into the Past by Beardan [Jordan] Alam and Libearty [Liberty] Roach, 2014
Read it online at the Internet Archive.

Cover from The Cowation
How Liberal Are You? Prove It!!! #MHC by Poorna Swami, 2014?
Opens with "What are your thoughts on undercuts? Neutrality is not allowed."

Cover from Zine Club MHC Tumblr
Otherly Love: a Philly Feminist Zine Fest Comp, by the zine fest organizers 2014

Poster from Sassyfrass Circus
Pizzadelphia: a Pizza Tour of Philly by Sarah Sawyers-Lovett split with OCD & the DOC by Dirk? 2014?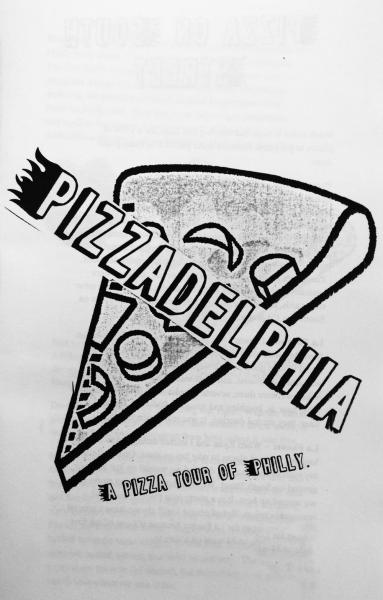 Cover from Quimby's
On Domino's: "Really? You're kidding me, right?"
On ordering in: "But sometimes it's raining or snowing, or you've already taken [off] your bra for the night and you just don't want to cook."
Safe Home: Thoughts and Stories About Home and Friendship #1 by Sarah Sawyers-Lovett, 2014

Cover from Pioneers Press
From the Mystery Pile
Charinko Panchi [Transliteration of Japanese text, translation: Bicycle Punch] by Ryoko Oguchi, ? [translation for cataloging by Kanoko Fujioka
 
Asher Bear Makes a Pod by Allison Cole, 2002
Did anyone else misread the title as "...Makes a Poo"? The first page of the minicomic has one character saying to the other, "I want to make something big and round."
Pod? Really?
Cellular, or "My Cell My Cell(f)" by Christina M. Steurer, early 2000s?
Think biology not telephonics. 
Ghost Zine (A Collection of Stories) edited and compiled by Jenn Hartman, illustrated by Alison Hjelseth, 2008
Hey, 4-Eyes #1 edited by Robyn Chapman, 2004

Cover from Atomic Books
"Wearing glasses has provided a distraction from spending every waking hour worrying about death. Instead, I am occupied by my responsiblity to keep my glasses from being dropped, lost, crushed, etc...." Jonathan Bennett in "I'm Going Blind."
Includes a piece by the editor called, "Retrospexual: the History of the Catseye Frame." ♥
O, Canada! by Allison Cole, 2002
Punkpunk! #5 Jing & Mark, mid-2000s?
New-to-us Library of Congress Subject Headings
Bears--Comic books, strips, etc.
Cells--Comic books, strips, etc.
Eyeglasses--Appreciation.
Illustrated children's books--Appreciation.
Imaginary histories--Comic books, strips, etc.