Gift of the Author
Nothing on Earth Is Big Enough to Crush My Beautiful Heart: Poems by Katie Haegele, 2014
It was just me there--well, me and my best buddy Trixie, a swaggering black cat who I thought of as more like a housemate than a pet.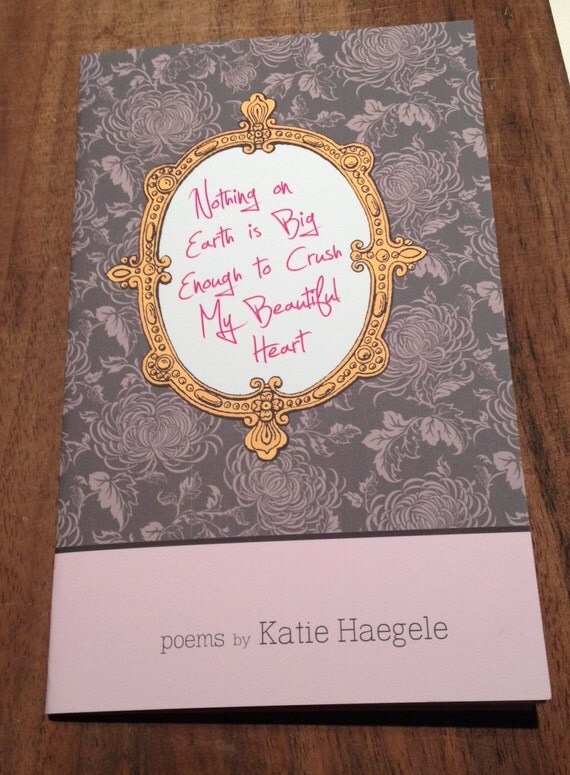 Cover photo from Katie's shop
 
Gift of Cheryl Tapper
Rebel Fux #2 by Kate Huh, 1996?
Rebel Girl #2 by Erika Russo, 1997?
Things To Be Excited About:
it's still summer
Star Wars Pez
Princess Leia 12"
Harley Quinn Action Figure
New Batman Animated movie
    "Sub-Zero
Dirty Dancing re-release ! ? ?
Law & Order on A&E
Red Charming Mail Order Catalogue 002 by Emily K. Larned, 1999
Rejection #3 by Teresa x Brat, 1999?
...this zine is written as an apology.   It's written as a way of saying "fuck you" to those who deserve it.  It's written to open old wounds. … These words are for people who most likely will never read them.
Remorsecodeblues #18 by Violet, 1999
Includes "ode to a long-arm stapler." What zinester doesn't love their long-armed stapler?
Riot Duck Zine #4 by Eva Riot Duck, 1999?
Riot Girl Press, 1998 & 1999
With Cheryl's stars and notes next to zine listings.
Riot Grrrl #5, 1993
Riot Grrrl Slam Book #1-2 by Brooke Cheese Log, 1995
By my definition your job is menial if you have to be nice to everybody, but they only have to be nice to you if they feel like it.
Lisa K. on being a secretary.
Sub Rosa #6 Taryn Hipp, 2010?

Covers from a Tumblr post that seems to be gone now
I think maybe it's going to rain forever. I think maybe I would be ok with that, not because the rain makes nice boys hold umbrellas over my head on first dates. it is more because the boy who doesn't want to date me is lying next to me in my bed and his breathing is going in rhythm with the rain hitting my bedroom window and it's the single most beautiful sound                                                          ever.
Youth in Revolt by Korinna, 2000
distribution based on TRADE-ONLY
Zuzu and the Baby Catcher #1-2 and 2004 calendar by Rhonda Baker, 2002-2003

Cover from Rhonda's website
Issues 1-11 available for free download from Rhonda's website.
 
New-to-Us Library of Congress Subject Headings
Barter--Catalogs.