Donated by or Purchased from the Creator
Dislocations #1 by Candace Mooers, 2014
There is nothing else to do in this town but get drunk and burn a canoe.

Cover photo from Broken Pencil
Drop the Beat We Gettin Free: a Black Queer + Their Musicology by Z Bell, 2014
mom has always been a writer, too
sickness will do that to you,
she, while getting her blood cleaned,
would be too tired to play,
would say,
"read"
and hand me some poetry
and in a purple journal
with cat stickers
and usher pictures
i made a promise
to my self-esteem,
and wrote myself
to sleep
For Hearth and Home: A Ladies' Manual of Direct Action by Melissa J. Frost, 2012
We are not destroying Orchid Houses, breaking windows, cutting telegraph wires, injuring golf greens, in order to win the approval of the people who were attacked.  If the general public were pleased with what we are doing, that would be a proof that our warfare is ineffective.  We don't intend that you should be pleased.
That's English woman suffrage activist Emmeline Pankhurst in 1913.

Interior pages from NoNow Never blog
High on Burning Photographs #9: the Lof-Fi issue by Ocean Capewell, 2014
i am so much happier than i was last valentine's day.
last v-day was spent in a warm house, in the company of a boy who loved me. this one is rained-on, brain-injured, scabby, cold, heartbroken, traumatized, & sodden.
& infinitely better.
WHY?
because it's my life now, all mine.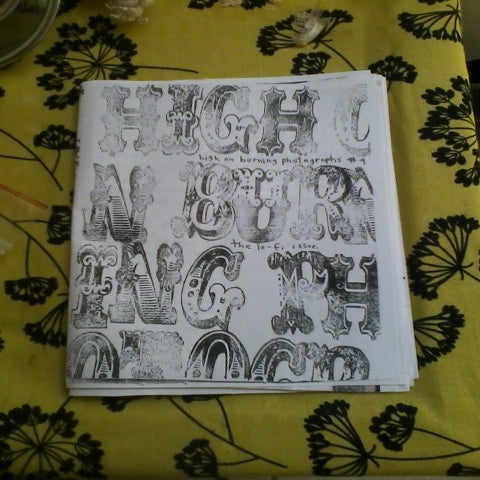 Cover from Ocean's shop
Ker-Bloom! #111: Birthday Week by artnoose, 2014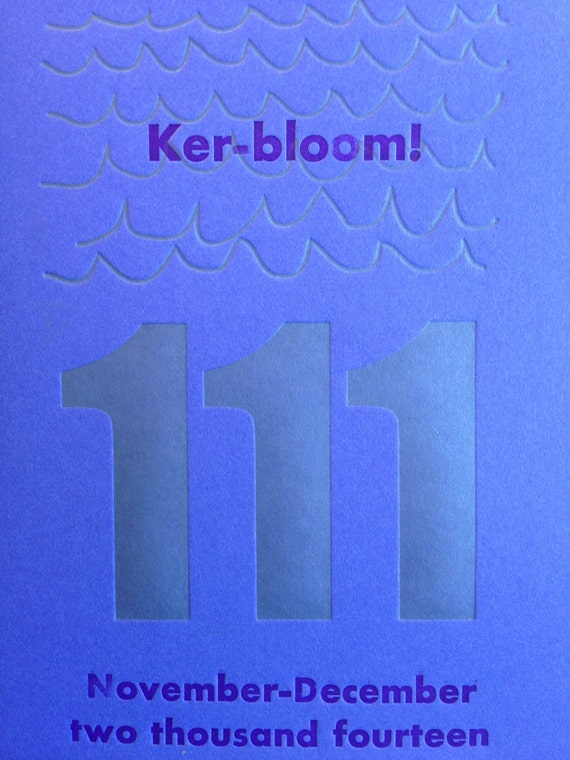 Cover from artnoose's shop
 
Bearing Witness: Notes & Feelings from New Orleans by Alisha Rae, summer 2014
This summer had so much violence as summers in new orleans can be. hothothot makes tensions highhighhigh
And I use star trek to cope. This was also the first summer in a long time that I wasn't feeling hopelessly alone forever. I didn't even thing about being sad or upset. I was too distracted and busy aand watching Data become a human.
And from the outro, "I'd also like to thank my mom & dad who will never see this, I hope."
 
Gift of Cheryl Tapper
Red Charming Mail Order Catalogue 002 by Emily K. Larned, 1999
Riot Grrrl #4 or 6? by Riot Grrrl NYC, 1993
"an angry self-righteous bitch" on "reverse sexism" and "reverse racism"
to call resistance to this "reverse" anything is like saying you can "reverse" a huge boulder falling towards you. racism and sexism are institutionalized, alright?
line from a poem by Ann D.
"Don't worry," he says with a chuckle, "I won't rape you."

Photo by me. Can anyone confirm which issue it is?
Sourpuss #9: the "Talk Show Freak" issue by Sara McCool, 1995?
interview with Pincha Macha bandmembers
What are some bands that have influeneced you gals?
n: I love prince
any others
n: NO
Teenage Whoremoans #3 by Melanie, 1996
Under Control, 1990s?
Unlucky in Love by Suzanne F. Hackett, 1999
Unspoken: Bits and Pieces by Megan Kelso, 1996?

Cover from What'cha Reading?
Untitled #5 by Sara Falls, 199x?
i need to write and i love to wirite and i need to do a zine because it is one of the ways i truly feel i can contribute something positive--to communicate--to make a connection with people i wouldn't normally be able to.
...
i almost hate to admit that i need to be reassured of this effort, but i do. but it also goes beyond that. this is a pretty damn big world and through this communication, i am able to make it a little smaller.
Whitespace by Willona Sloan, late 1990s?
I'm sick of pretending to be angst. I'm not angst I'm just lonely.
Power Girls: 24 Hr Pop Femme Zine by Kinoko Evans, 2014
I have long thought that the wicked witch, as played by Margaret Hamilton in the 1939 film version of The Wizard of Oz, is adorable. She's just this strange, cool girl that Robert Smith could be sining about. I used to think about what she'd have been like as a teen, and even made some illustrations. In my version she has a pet goose.
I was happy to see others exploring the same theme in Gregory Maguire's book 'Wicked' now a musical and likely a movie. IDK. I'm just happy that others think about this woman as a whole person, too.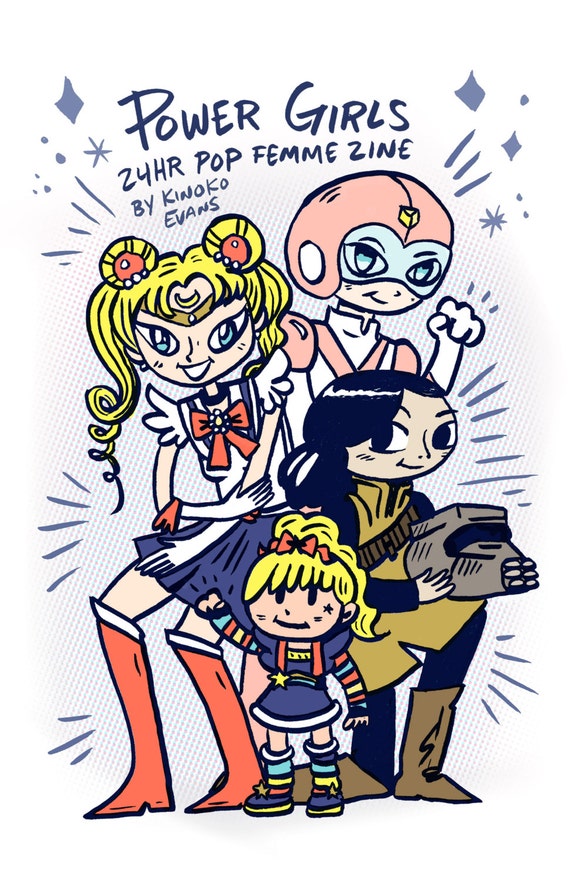 Cover from KinokoGallery shop

New-to-Us Library of Congress Subject Headings
Rap (Music).
Women heroes--Appreciation.
Women--Suffrage.