Gift of Cheryl Tapper
Boshi #2 by Taryn Hipp, 2001
In which Emily wonders whether she'll ever stop making zines; she thinks she might. [It's 17 years later, and after a break she's back to making zines.]
My Own Personal Star by Gusty, 1998ish?
My Room Records #2 by Wendianne, 1999

Cover from Indie Zine Library Archive
My Secret #2 by Lisa, 199x?
My Straight Faced Twin #2 by Aren Rogal, 1996
"'Mom, I'm gay.'
"Nothing. Silence. Did she hear me? My teeth are clenched, waiting for a response. shit, I knew I shouldn't have told her. I looked at her, she was choked up and teary, and I just wanted to run out of her room as fast as I fucking could, but my legs stood still.
"Finally she spoke! 'Well, at least you wont get pregnant.'"
Mystery Date #4, 6 by Lynn Peril, 1995, 1998

Cover from Pinterest, so who knows?
Ocho Y Media #1 by Lia Friedman, Britton Neubacher, and Mari Salas, 1996

Cover from San Diego State University Libraries
Octane Girl #3 by Jennipher, 1996?
Octopus Head Records #3 by Eleanor Whitney, 2000
 
Purchased from the Creator
Eileen P. by Kristin de Leon, 2014?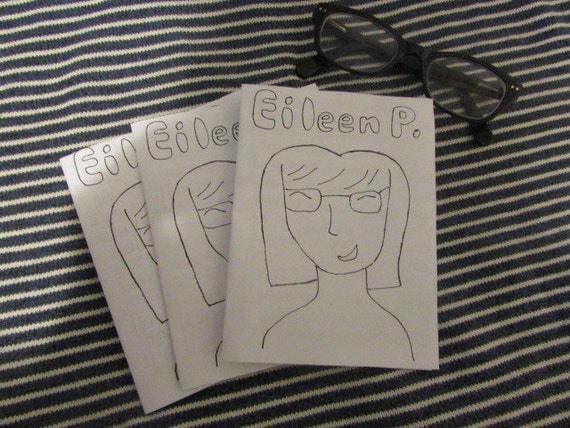 Cover from DeLeonHandmade shop
Fill It With Love by Kristin de Leon, 2014?
"From friends to relatives I noticed a pattern that one person has to be good at cooking to make a relationship work."
Health Tips and How I Lost Weight by Kristin de Leon, 2014?
Musings of a Jook-Sing by Diana Mai, 2013

Cover from Diana Mai's shop
Diana quits veganism, going to punk shows, and having sex with white people.

Trade with the Creator
Everyday Queer Sex for All by Amber Jean Coyne, 2015

Cover from Queer Femme Talk blog
SPOILER: this zine is not about sex and contains no nudity. It's Queer Studies with a side of Crip Theory. Read the pdf.