Cochineal #2: Keep Your Pants On by Rachel, 1994?
Homespun: the DIY zine #2 by Noemi Martinez, 2004
Kneehigh: Thrift Store Finds by Missy Kulik, 2000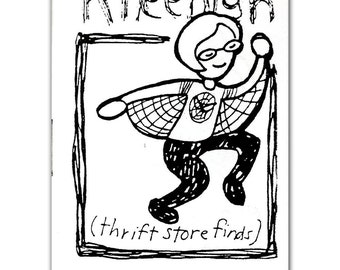 Memorytown USA #5 by Emily K. Larned, 2000
Italy of course also had the best coffee and in America, now, maybe you cannot order coffee, it tastes as weak as tea. Maybe you complained to your boyfriend about the poor quality of coffee in restaurants at least five times before you figured this out, that you are insufferable and you can't drink American coffee.
#cominghomefromstudyabroadproblems
Mister Fujiyama Loves You #4 by Sheena Allen, 2004
Reading Log by Celia Perez, 2003-2004, 2006, 2007
Sub Rosa #1 by Taryn Hipp, 2006?
Violet Polyester #4 by Amy and Meegan, 1996
Waiting for Summer by Jen Hardin, 2000
The Weaker Vessel?!?: Gull Powah! #11 by Layla Byrd, 2000
If I were a famous person, the only causes I would dedicate my time to would be animal related.  People suck. Animals are cool.
When Swinging Next to You: 10 Feet Closer to Jupiter #1 by Lazy Jane, 1999.
Whirling Cervix #4 by Lorax, 2000
The Wrong Girl #1-2 by Jennifer, 2000-2001