Gift of Cheryl Tapper
A Ape by Missy Kulik, 2006?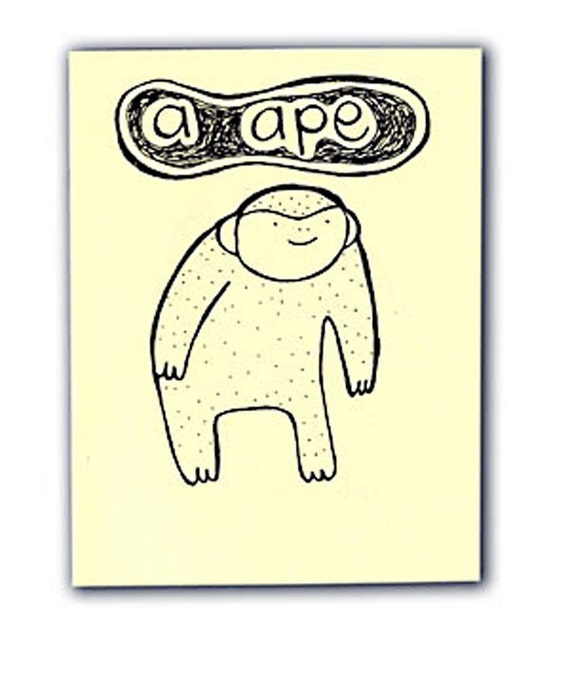 Cover from Missy's shop
A Ape has a adventure in a tree. ebook, in many formats
The Assasin and the Whiner #16 by Carrie McNinch, 2005
I suppose that's where these diary pages come in: my first feeble attempts to get on my feet and walk away from the drinks I never spilled.
B.B.'s Revenge #4 by Marla, 2001?
That's why I'm writing this, writing what I feel, because I don't want to be drowned out by Jesus freaks and Operation Rescue and republicans and the religious right - I don't want to be drowned out period.  We all have a voice, and every voice needs stand up and be counted.  Where is your voice, girl?  You gotta find it.  It is the weapon you have to make change.  It is your most powerful tool.  This is not to say I know how to use mine, either - I am learning, too.  But let's learn together and teach each other.  Because our screaming should be the loudest of all.
Cheshire #4 by Jackie Saratt, 1996 (split with Velvet Grass #18)
[Starfiend distro catalog] by Jenn, 2000
Sub Rosa #7: the Sobriety Issue by Taryn Hipp, 2012
Addiction is lonely but recovery doesn't have to be.
Super Witch #1 by Anjali, 1995?
Untitled #4 by Sara Falls, 1995
V-Reject #12.5, & 13 by Anna C., 1997

Cover scan of #12 from shine_so_cold on Flickr.
punk is dead, punk is over, and the punkest thing you can do is not listen to it. (#12.5)
in 1996, i had so many pen pals i couldn't keep track of who played bass and who was a vegetarian. (#13)
Velvet Grass #12, 13, 15, 17, 18, 19, 34 by Rebecca, 1996, 1998

New-to-Us Library of Congress Subject Headings
Apes--Comic books, strips, etc.
English language--Grammar--Comic books, strips, etc.