Candles for Girls #1, 2, 4 by Jennifer 1996?
Dear Milkhead - you are the prettiest and fluffyest kitty cat in the world and I am so glad that I found you and now we are going to grow old together and be together forever. You are the light of my life, and I will always put pictures of you in my zine. -
Love Jennifer
#relatable
Chelsea Kicks Ass #1-2 by Nicole Seymour, 1996
Coming Out Party #1 by Rori, 1995ish

Cover from Hamphire College Zine Collection
Cooties #1 by Kate Cooties, late 1995?
Kate
I thought you looked very nice today. Sorry you're still so angry!
Call me when yu fee you can.
Love
Dad
[phone number]
What are your plans for the coming year?
Cuddlecore #3 by Sara and Adam, 1998
Cuss #2 by Shannon, late 1995 or early 1996
Kneehigh: What I Have Been for Halloween by Missy Kulik, 2000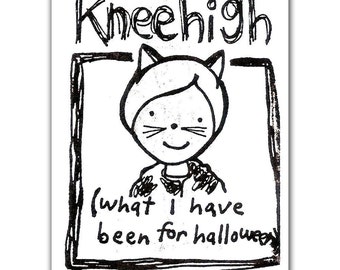 Reading Log by Celia Perez, 2009
Salt & Slush #2 by Sarah Evans and Sonia Edworthy, 2007
Semi Bold by Marissa Falco, 2003
Some Like It Hot: a Cookbook Fueled by the Insatiable Appetites of Our Families & Friends, organized by Scout & Payla, 2003
Stab and Root by Sonia Edworthy & Sarah Evans, 2008
Veronica #1 by Summer Jean, 1996

New-to-Us Library of Congress Subject Heading
Clinton, Chelsea--Appreciation.
Halloween costumes.