Gift of Cheryl Tapper
Elfs by Missy Kulik, late 1990s

Cover from Atomic Books
Mums Zine: Midwest Underground Media Symposium editd by Rita Terrorist, 1999
In which Ciara Xyerra answers the question, "What's the difference between a volleyball player and a zinester?"
Odd Grrrl Out! #5 by Nicole, 1997?
Oh Boy #1-2 by Barbie, 199x?
"Some things in here are kind of old and i don't exactly know if i should print it all, but when i wrote it those feelings were real, even if they no longer exist, or are as strong." #1
"Sometimes I think I wouldn't exist if I didn't write it down, hand real evidence." #2
Okiedokiedistro: Oklahoma-only Projects by Melissa, 199x?
Operation Kitty Kitty by Katrina, Spring 2000
Out of Order #1, 4, 6 by Jen Walsh, 1999
Love this: "From my second grade teacher, I learned the absurdity of rules.  I wanted to stay inside during recesses when it was five degrees outside and work, but that just wasn't allowed." from #1
Red Charming by Emily K. Larned, 2000

Gift of or Trade with the Creator
I Don't Sit in Circles: a List of Petty Grievances by Liz Baldwin, 2015
Jennifer #12 by Jennifer Mathieu, 2002
"When you get down to it, everyone's life is ridiculous and deserves to be documented."
Ker-bloom! #112: Definitely Unexpected, Bordering on Eucatastrophic by Artnoose, 2015

Cover from artnoose on Flickr
November 26, 2014: Waiting for the Bus on Wednesday by Lauren Haugli, 2015
Sea Legs #1 by MMS, 2014
Reading her account of being sexually assaulted on the subway, I wonder, is there a young woman who has lived in NYC for even a small amount of time who hasn't been molested on a train?
You Don't Get There from Here #32 by Carrie McNinch, 2015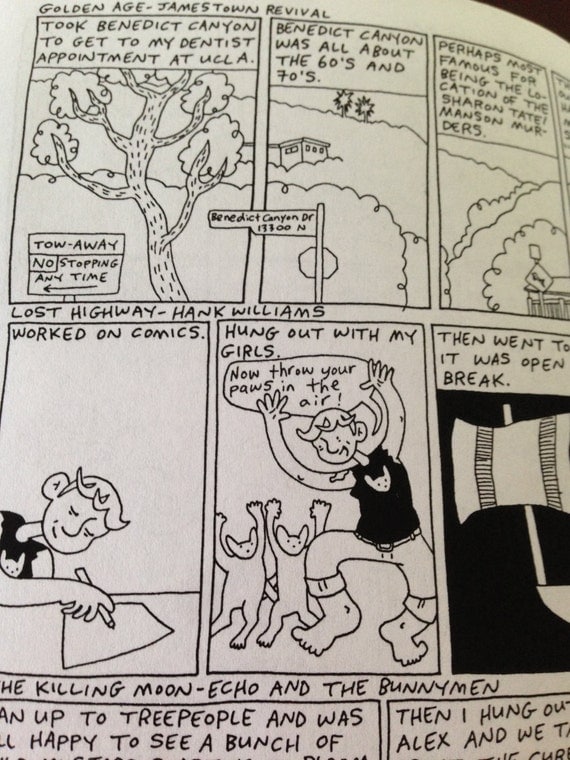 Inside page from Carrie McNinch's Etsy shop

New-to-Us Library of Congress Subject Headings
Elves--Pictorial works.
Tolkien, J. R. R. (John Ronald Reuel), 1892-1973--Appreciation.