Gift of Cheryl Tapper
3 a.m. #2, 4, & 5 by Hope, 1996
The zine creator wrote in a note to Cheryl (original recipient of zine and donor to the zine library) that she found Cheryl's name and address "in an fb." Took me a minute to realize she meant Friendship Book not Facebook!
Also includes the second Anne Sexton reprint I've seen in a zine today (out of three).
Adore Distro catalog #2 by Tina, 2000
Bus*6 #6 by Laura McKenna Farrell, 1997
Displacing Love... by Lauren Fardig, 1999
Tales from the Clit #2 by Theresa, 1996?
Includes an interview with the Lunachicks, in which Reesa asks, "What do u like 2 do 4 FUN?"
responses:
Burn fan mail
De-lice each other
Collect head cheese from other countries
Find fault with everyone & everything except for us (and our fans, of course!)
Watch Zena!
Knit 1, pearl 2
Compare colostomy bags after Mexican fest
Drink beer & pee
Karoke
The band's favorite foods are revealed to be "bile, sausages, boogers, hair pie, and BEER."
Terrorist #8 by Rita Brinkerhoff, 1999
Thrift Score #9 by Al Hoff, 1996
Article on pajama shopping titled "Sleep Is No Excuse for Lack of Style."
 
The Anarchist Agenda #1 & 2, 2014-15 edited by West Gipson and Ian Schlom
No. 2 provides instructions for protest n00bs, including an entry called "Prepare your pets."

Interior page image from Anarchist Agenda blog
Gift of or Trade with the Author
Everything. Is. Fine. #2 by Nyxia Grey, 2015
"i dreamt the other night that i had strings growing out of my back. One of my colleagues was trying to cut them off so that he could preserve them in Archives and Special Collections." #librariandreams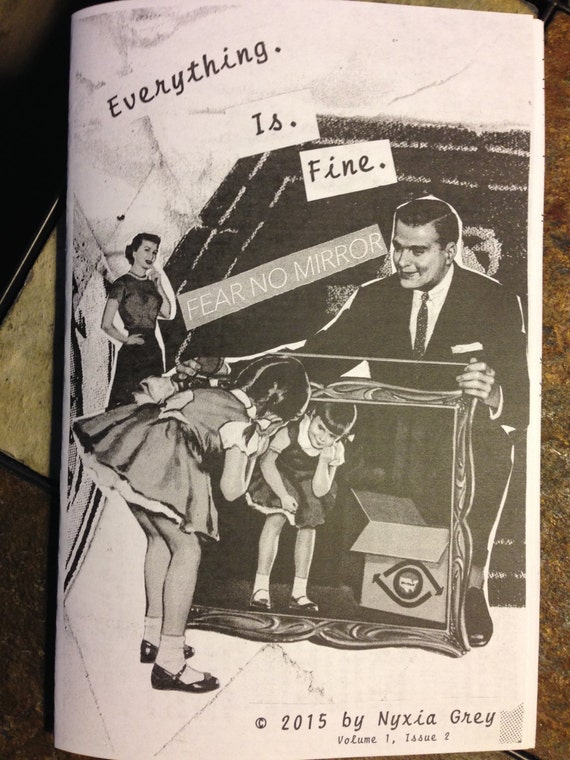 Cover from Nyxia Grey's shop
[tw]: a zine exploring trigger warnings in the Barnard Community by the Barnard Zine Club & CAP (the Collective Advocacy Project), 2015
"an unexamined trigger warning is not worth giving"
"students ARE the classroom"
You Don't Get There from Here #32 by Carrie McNinch, 2014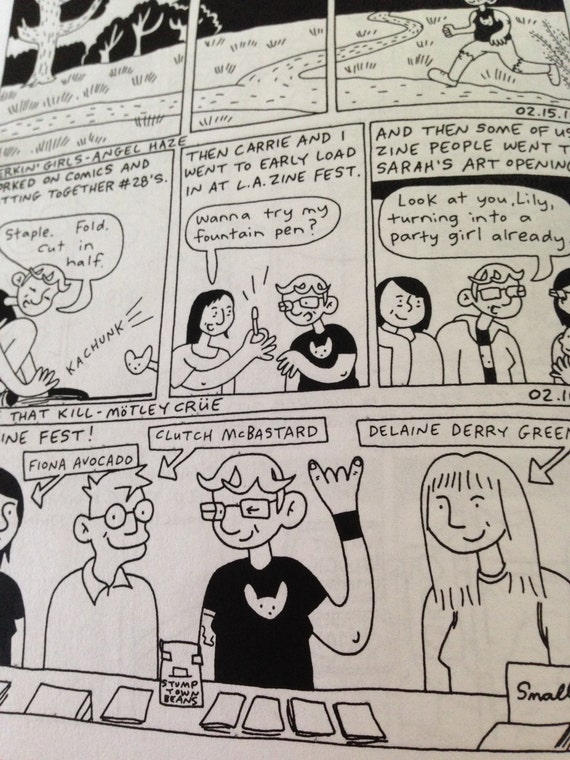 Interior page from Carrie McNinch's shop
Zine Librarians Code of Ethics Zine by written by lots of zine librarians and clip arted by Kelly Wooten, 2015

Download the Zine Librarians Code of Ethics Zine pdf

New-to-Us Library of Congress Subject Headings
Literature and society.

Suggested New-to-the Library of Congress Subject Headings