Acquired from the Creator
Deleterious: a Mutant Gene Zine by Jen Silverman, 2016

Cover via Facebook via Huffifer on Instagram
Includes lyrics to "Preemptive Mastectomy," sung to the tune of "Teenage Lobotomy" by the Ramones
Dodo #1-3 by Dorothy H. 1996-1997
Emancipate by Denise McKellick, 1998
Fat!So? #3: the Sticky Issue by Marilyn Wann, 1995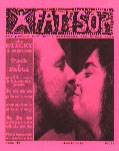 Cover from Zinebook
The Femme Skunk #1: Salome's Sister by Eve Tushnet, 1996
All the kids I know jounced through school like silver balls along the tabletop of a pinball machine.
Later, in a different essay:
I can't concentrate in class.  I never could.  Report cards said distraction, potential, like the tarot cards I read during lunch in junior high.
Fruit Salad #24 by Mango and Kiwi, 1995
In the Backseat by Muffie White, 1997?
Lame #3 by Gabrielle, 1997?
Maybe Magazine #21 by Shosh Cohen, 1996
the unofficial traditional meal of the semi-legitimate GIRL BIKE TERRORISTS OF BERKELEY IS:
POP-ROX + SLURPEE
from 7-11 of course!
Mons of Venus #9 by Freda and Jennifer, 1996

Cover from Chris Fitzgerald blog
Monsters Are Real #1 by Michelle, 1997?
Moon Fuzz #4 by Serra Sewitch, 1996
PssstChick no. 3 by SansSerif, 1996
SansSerif likes to drive a librarian crazy, alternating between PssstChick and PsstChick. I wonder if doing so was a riot grrrl vs. riot grrl allusion.
Unfair World #1 by Barbie, 1998

New-to-Us Library of Congress Subject Headings
BRCA genes.
Feminine beauty (Aesthetics).
Mastectomy--Patients.
Ovariectomy--Patients.