Acquired from the Creator
Tattoos I Would Totally Get by Katie Haegele, 2015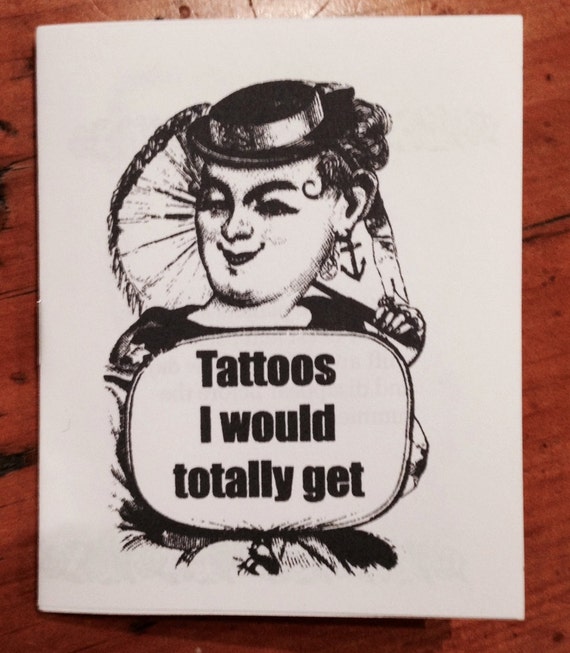 Cover from thelalatheory on Etsy
A Tiny Telling of Fairness & Freedom by Chella Quint, 2015
Rev Hillel was a famous Jew
who said to snack like Scooby-Doo!
He thought since life was bittersweet
he'd add maror, matzot and meat.
Now sandwiches go on our plates
Made up of matzah, herbs and dates!
free pdf of Chella's rhyming verse children's Haggadah zine
Zines in Libraries: Collecting, Catalging, Community by Joshua Barton, Violet Fox, Anissa Malady, Kelly McElroy, Matthew Moyer, and Sarah G. Wenzel, 2015
 
Gift of Cheryl Tapper
Food That Makes You Fart by Carrie McNinch, 1995
Amish Ways by Jen, 1990s?
Chainsaw #3 by Donna Dresch, 1990?

Cover from ZineWiki
Girl Fiend #3 by Christina, 1992
Girl Germs #2, 3 by Allison Wolfe and Molly Neuman

Cover from and AfterEllen
Sister Nobody #2: Frida Likes Girls by Laura McDougall, early 1990s?
to me punk is about making something out of nothing. no money. no collection of tools or instruments. just finding what you find in a day and creating something with it that is immediate and from the heart.
Silver Rocket #2 by Nicole, 1990s

New-to-Us Library of Congress Subject Headings
Digestion.
Flatulence.
Haggadot--Juvenile literature.