Gift of the Creator
Barnard Unlocked: NSOP Out Loud 2016 by the NSOP Committee, 2016

Interior page photo. Cover from NSOP on Facebook
My Life Is Barnard College, 2016 edition, update, new content, and design by Suze Myers, 2016

Cover from @barnlib on Instagram
 
Gift of Cheryl Tapper
Hope #12 & 16 by Elissa Nelson, 1996 & 1999
Hospital Gown by Stephanie, 1995ish?
Abuser to the author about her accusing him of psychological abuse, "You can tell your friends, your family and put it in your little riot grrrl newsletter..."
#done

Interior page from MTV Books blog
How Can I Hurt All That I Touch #2 by Meghan, 1999?
Letter to a Friend, 1996?

Cover from @leslzine on Instagram
Lettuce Be #3 by Jennifer, 1996
Libel #15 split with Spirals Upward #2 by Jenna DeLorey and Basil, 1994ish?
my biggest problem is patriarchy and my biggest patriarchy derived problem is, in a word, perfectionism. ... it's not by chance that i never think i'm quite good enough and the boy next to me is unconditionally content with himself.

Cover from Hampshire College Zine Collection
From Libel. Sound familiar? What do you think about Jenna having handwritten the above in lowercase?
this is a fraud, but i am real. this is a fraud because by the time these words go from thought to body to hand to pen to paper they've been thought and rethought and possibly changed to make me look better or make me feel better or make me sound better or to actually represent more of what and how i really think.
From Spirals Upward. So reall. Also in lowercase, but this was typed (on a typewriter).
Libel #17 by Jenna DeLorey, 1995?
Limousine #8: Drowning and Living by Libby Lampert Donovan, 1998
 
Gift of Kim R. Cody
Culture Slut #16 by Amber Dearest, 2006
The thing about zine fairs is that there are cute girls everywhere. Oh, the cute girls! They wear cateye glasses and they cart around their typewriters and they bake yummy vegan treats and they wanna trade zines with you.
Culture Slut #21, split with Stab Heart #11 by Amber Dearest and  Jane Boston, 2010
The Stab Heart side provides a monkey bread recipe.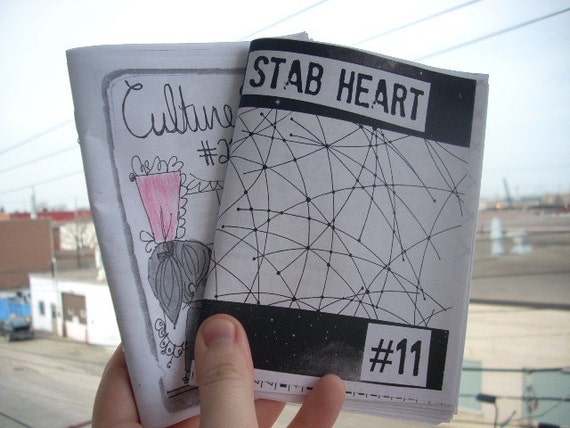 Covers from helloamber shop on Etsy
The Rainbow Connection: Richard Hunt, Gay Muppeteer by Jessica Max Stein, 2009

Cover from MuppetWiki
Sinverguenza #1 & 2 by Jamie, 2012

New-to-Us Library of Congress Subject Headings
AIDS (Disease) and the arts.
Gay men on Television.