Acquired from the Creator
Big Fat Femme #2: Fat in Public by Lauren Melissa, 2014
When we think about accessibility, we need to be inclusive of mental health, physical mobility, scent sensitivity, fatness, queerness, gender, race, sobriety, class, age and a litany of other points of oppression. We need to be intersectional in our approach and recognize that the way multiple marginalized identities come together creates unique situations with respect to accessibility.
NYC Zine Fest Here I Come Again by Nyxia Grey, 2016
I am an adult now. So I deserve an adult swatch. I pick out one with unicorns and rainbows.
#adulting #age40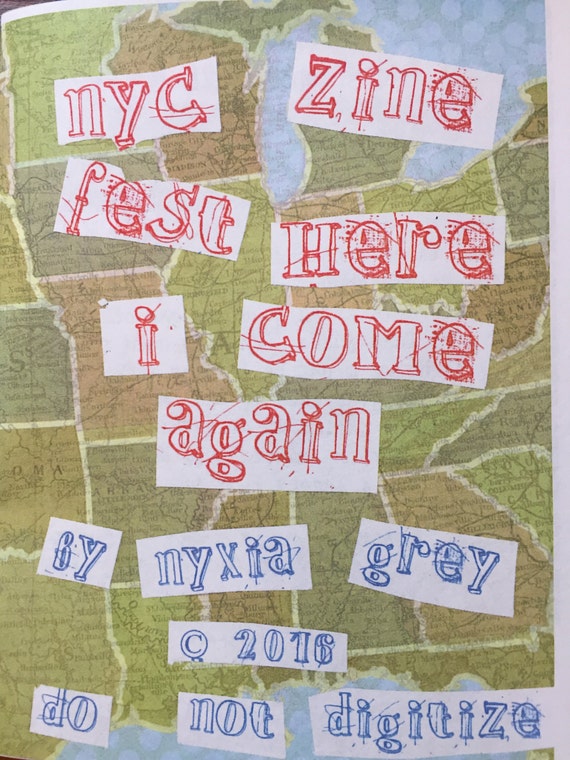 Cover from ZinesByNyxia shop

Gift of Cheryl Tapper
How to Buy 2nd Hand Guitars and Amps Without Getting Ripped off (by Dumb Boys): Everything You Always Wanted to Know but Felt Too Dorky to Ask by Callous, 2012?
Hum #2 by Monica and Megan, 1994
The next morning, while watching the Great Muppet Caper, Megan and I came to an amazing discovery. Kim Gordon, of Sonic Youth, has fashioned her self after the beloved muppet, Janis.
The Hundred Most Influential Writers in My Life to Date as Best I Can Remember and Mostly Not Including Zines #1 by Elissa Nelson, 2010
I Am Not a Nigger / I Am Not a Sell-Out by Kerith, 2000?
I ♥ Amy Carter #5: Summer Tour by Tammy Rae Carland, 1994
I ♥ Me by Val Taylor, 1994
I'm Not a Feminist, But... by Ronni, 1998ish?
I Love You, Hello Kitty! by Kerith, 1995?
If Anyone Cares #2: the Next Chapter by Heather, 1996?
Nothing is left but my thoughts and the inability to express them.
Imaginary Friend #5 by Zelinda, 1996
In Morning Clouds #11 & 12 by Sarah Evans, 1998 & 1999?
Inside and Out by Taryn Hipp, 2000?

Mystery Provenance, Probably Cheryl
Impossible Schizoid Girl #4? by Kelly Spivey, 1996?

New-to-Us Library of Congress Subject Headings
Amplifiers (Electronics)--Handbooks, manuals, etc.
Electric guitars--Handbooks, manuals, etc.