Acquired from the Creator
Deafula #8 by Kerri Radley, 2015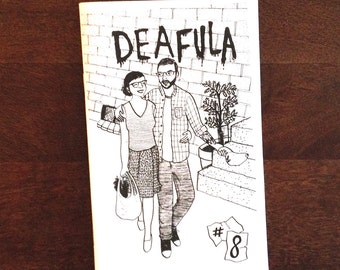 Cover from Etsy
The East Village Inky #55 by Ayun Halliday, 2015

Cover from Birdcage Bottom Books
Ker-Bloom! #114: Kristen by Artnoose, 2015

Cover from Artnoose on Flickr
A Lil' Bit of History on the Women's Colleges! by Mr. Elvis, 2015
 
Gift of Cheryl Tapper
Bad Reputation #2, 4 by Jen, 1993? & 1995
whether she is straight is arguable, but the point is moot.  can you spell boyfriend? i can, but only when i'm sober.
from #4
The Function #9 by Dawn, early 1990s?
 
Baa! I'm a Sheep #1 by Shari Cooper (alias) real name Esmé Weijun Wang, 1995?
Cutiepie #4 by Melanie McCarty, 1996?
Daffodil #15 by Emily Lyon, 1998
The Fart Party #1 by Julia Wertz, 2006

Comic from Museum of Mistakes
Glamour Queen #8 by Erin M.cCarley, 1997
Rome Wasn't Built in a Day by Erin McCarley, 1996?
Starlite Starbrite #7 by Nikki, 2000
For English, we had to rewrite a fairy tale from another character's point of view.  I rewrote "Cinderella" from Drusilla's viewpoint.  ... Almost everyone is gay.  Drusilla is upset because she doesn't get invited to the Alliance Dance.
 
Baa! I'm a Sheep #5: Mad Girl's Lovesong by Esmé Weijun Wang, 1998

New-to-Us Library of Congress Subject Headings
Rome (Italy : Province)--Description and travel.