From the Publisher
Autumn: a Celebration by Allie, Caro & Adina, 2012.
One essay in this Barnard student comp zine references an admitted student weekend poetry class argument that the seasons are not a winter-summer binary with spring and fall merely as transitional months. Barnard discourse FTW. 
Mini Comics (a Mini-Guide) by Juliana Strawn, cover by Stephanie Mannheim
Juliana made this zine as a handout for Columbia Graphic Novel Librarian Karen Green's comics and graphic novels class this summer. 
No No No (This Is NOT a Zine) #5 by Kim R. Cody
"Daily Reminder
"You wont' be here one hundred years from now."

Cover from ZineReviews.blogspot.com.
Plenty #1 by Caro and Adina, 2012.
"...the man in the foulard sipping an espresso..." 
Again--Barnard girls!
Tazewell's Favorite Eccentric #13 by Sarah Rose, 2013.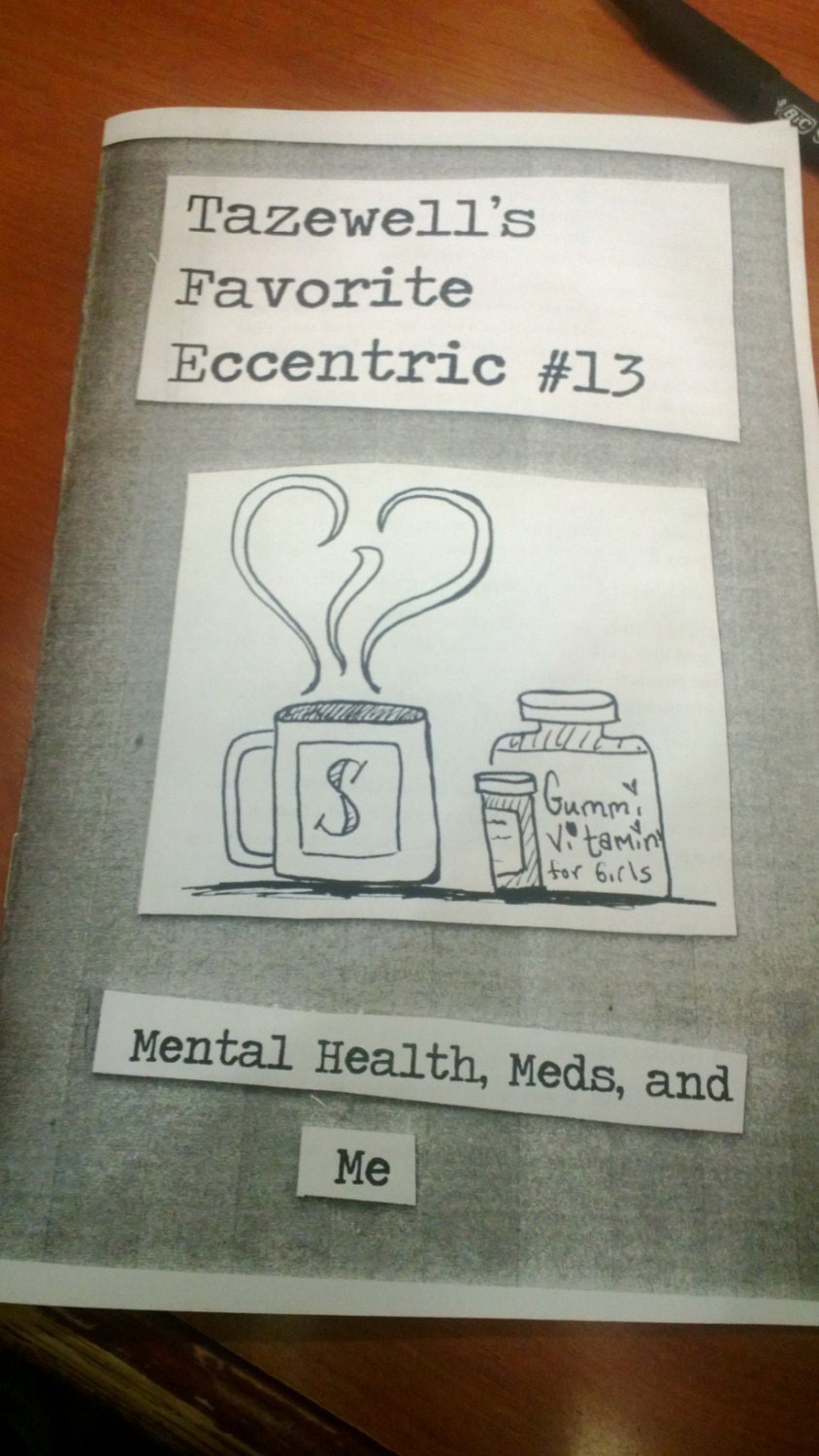 Page image from Etsy. 
Ayun, the long-time publisher of The East Village Inky zine and a bunch of books is also a long-time, repeat donor to our collection. 
Button #15 by Sally Cragin, 2008?
The Future Generation #15 by China Martens, 2006. 


Cover image from Atomic Books. 
Grace Comics Showcase edited by Elizabeth Merrick and Ariel Bordeaux, presumably 2006. 
With contributions from luminaries Christa Donner, Heidi MacDonald, Anne Elizabeth Moore, Trina Robbins, Ariel Schrag and others. 

Cover from Elizabeth Merrick's website. 
IndyMum #4 by Flavia Lytle
Once Upon a Photobooth by Coleen Murphy
Snailwell Gazette #s 1-5, by Elizabeth Bessel, 2006-2007
"I have decided the best thing about independent publishing is the lack of pressure to be absolutely grammatically correct. Run on sentences and overuse of parenthesis and hyphens are not only acceptable but are encouraged by the head publisher (ME!) I am not even going to offer an apology up front for any misspelled words as I am the worst speller in the history of spelling." Disclaimer from #1.
Sounds like an apology to me, but that's part of its
charm. :)

Cover from the author's Flickr account. 

Time Enough at Last: a Reading Log, by Aj Michel, 2004.
Xerography Debt #s 19 & 21, edited by Davida Gypsy Breier, 2006 & 2007. 

Yep, still working my way through Keight's gargantuan donation. It's a love of labor. 
Wallflower Rebellion #3 by Hannah Hafter


Cover from a post on this blog, where I quoted Hannah on Judith Butler. I orginally grabbed the cover from Soapbox on LibraryThing. 
Welcome to the Dollhouse #8 by JennyKay, 2000. 
When Swinging Next to You #6 by Lazy Jane, 2000. 
When Wrong Prevails: a Chapbook by Lauren Michele Fardig, 1999.
Words That Soak Up Life: a Reading Compilation Zine by Celia C. Pérez, 2001. 
A Zinester's Guide to New York City by Lauren Michele Fardig and Cheryl Tapper, 2000. 

New-to-Us Library of Congress Subject Headings
Antidepressants--Side effects. 
Autumn--Appreciation.
Hurricane Katrina, 2005--Psychological aspects. 
Photobooths.