Keight Zines
Buttons by Astrid (Stefanie?) Le Jeunesse with pictures by Tim Le Jeunesse, early 2000s?
I wish I could figure out more about this one. Keight thinks she bought it from a third party, so not much help there.


Sorry for the blurry cell-phone photo. If you can make the image out, can you place it in time or space?
I'm in Love Again by Suzen Green, 2002. 
"The most important things in my life right now include getting a good night's sleep, eating relatively healthy, doing well in school, and remembering to breathe."
In Transition (It Doesn't Mean I Will Grow Up) by Lauren Fardig, 2002. 
"One morning I became whole with myself again--I remembered where I need to live, that I am always in the home of the spaces between."
Jar of Pennies by Kalah Allen, 1999.


Cover photo from Hic + Hoc.
Kickstand #s 5, 7-10 by Arianne Foulks, 1996-1998.


Cover from ZineWiki
Kimagure na Dowa no Hon (a storybook of whimsy) by Jennie Hinchcliff and Carolee Gilligan Wheeler, 2006.
"I wanted to photocopy my notebook for you in color. No, strike that: I wanted to sit down with you and put your hands on it, page by page."


Cover from Gloomy Sundays
Lightningbug Zine #s 2, 4 & 7 by Kirstin Munro, 2001.
"While we never 'played house' in the traditional sense of the term, my sister and I liked to pretend we were 20-something single women living on our own; sometimes we would pretend to be rich, but most of hte time we were struggleing to get by as aspiring actresses who had to forage in the woods for food."
Looks Yellow Tastes Red #21 by Colette, 2001.
Pixiebitch #s 5 & 7 by Zoë.
"Hello Kitty rant #3,246. Ok folx--here's my latest complaint: the riot grrrl movement (yes it's still a movement, fucker!) is virtually keeping the fucking Sanrio corporation alive. The little mutant has no mouth & she's the sappiest drippiest most irritating cute in the world. I don't get it!! What does all that have to do with strong powerful womon??"
Places & Things by Teri Vlassopoulos, 2010.


Cover from Teri's site.
Promise on Everything #s 4, 5 & 7 by Suzanne Coady, 1999-2000?
Red-Hooded Sweatshirt #1 by Marissa Falco, 1998.
In which Marissa shares her zine history, considers the straightedge label, and gives directions for shortening your tube socks and reattaching the stripes.

Zines we got from the authors
Ker-bloom! #101 by artnoose, 2013.
"For one, it is impossible [as a single parent of an infant] to maintain my overachieving lifestyle. Sheer will just doesn't cut it."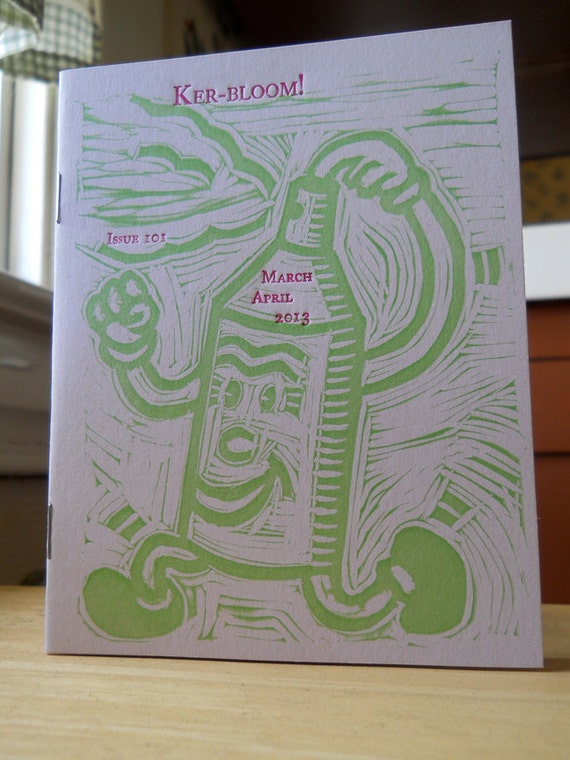 Cover from artnoose's Etsy shop
Take Good Care: a Zine About Recognizing and Asking for the Health Care That We Want, Need and Deserve by Jude Vachon and Lizzie Anderson, 2013.

Library of Congress Subject Heading Highlights
Loneliness--Comic books, strips, etc.
Self-care, Health--Handbooks, manuals, etc.
Women artists--Notebooks, sketchbooks, etc.