Communique by Summer Jean (I think), 1997.
Daffodil #18 by Emily Lyon, 1999.
I am a Camera #4 by Vanessa Berry, 2001.
Jehovah's Witnesses to Vanessa, when she answers the door wearing a too-small slip: Did we wake you?
Vanessa: No, I'm just with a customer.
She didn't really say that, it's what she said she should have replied. Indeed!
I Kicked a Boy #2 by Leah, 1995?
Looks Yellow Tastes Red #14 split with Mary Is Reckless #6, 1997.
"After a while I realized one of the most profound affects of publishing a zine and writing to other people all over the world was that it showed me I wasn't alone, that we have similar experiences. And I thought that maybe, by being honest, about myself, mostly, so not to hurt anyone, by being honest gently sometimes, and by being reassuring, I could give back some of what I've gotten out of this, some of that reassurance, some of that empowerment. Some of that knowing that I am not the only one who feels pain and I am not the only one who feels alone and some people do car, for real." -Colette


Photo from Atomic Books.
Looks Yellow Tastes Red #20 by Colette, 2000.
Love Letter Zine #3 by Thara Harris, 2001.

Lovesongs #3 by Laura Faulds, 2002.
Maaike's Little Holiday Diary by Maaike Hartjes, 1997.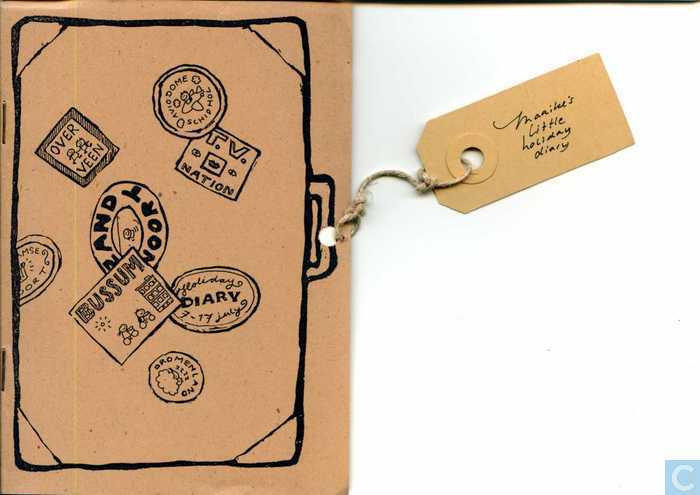 Cover photo from Catawiki.
Make Out Club, by Ginger Brooks, 1996.
Disambiguation: there are two zines called Make Out Club! Actually one is The Make Out Club, but in case you didn't know, librarians don't think much of initial articles like "the."
Mary Is Reckless #s 10 & 11 by Johanna M., 2000.
Melt the Snow #10 by Teri Vlassopoulos, 2000.
Middle Name #7 by Alli Picard, 2002.
My Stupid Heart by Sarah Evans, 2002?
Napcore #5 by Rebecca Gilbert, 2006.
Features contributions from current and past PDX zine luminaries Chloe Eudaly, Sarah McCarry & Greig Means.
Operation Kitty Kitty zine distro catalog #5 by Katrina, 2002.
Oppress This #s 7-9 by Erin, 1998 & 1999.
Panacea #5 by Summer Jean, July 4, 1998.
"i used a lot of white-out on this page.
"this allows
"me to be perfectly imperfect."
The Speak Easy #1 by Kimberley, 1999?
This Anatomy Is Music #1 by Jess *O* Rama, 1990s.
To Win Your Heart in Chess & Cards by Nicole W., 2001.
Verboslammed #s 8 &10 by Rebecca, 1996 & 2002.
Vitaphobia #7 by Shari, early 2000s?
Vortex 5.0 Sketches from Street Level by Amanda Wood, 2010.


Photo from author's Flickr account.
 
Purchased from the Author
Ella Funt #1 by Ciara Xyerra, 2013.
"i would transform from a sloppy weirdo who doesn't stop wearing her jeans even after they get holes in the crotch, who ties her hair up with newspaper rubber bands she finds in the gutter, who doesn't have a problem smoking discarded cigarettes off the sidewalk, who won't eat artichokes because 'they're just not worth the effort' into this content, balanced earth mama."


Cover photo from Marching Stars zine distro.
Skinned Heart #4 by Nyky Gomez, 2012.


Cover photo from POC Zine Project spotlight.

New-to-us and Highlighted Subject Headings
Housesitting--Comic books, strips, etc.
Naps (Sleep)--Comic books, strips, etc.
Naps (Sleep)--Miscellanea.