I should be honest and say that I selfishly wanted to visit the Barnard library just to live out my fantasy of attending the same college as Zora Neale Hurston and Ntozake Shange. For about a week in September, I got to sit lovingly with the fantastic Zine Collection, sifting through the collection to pay particular attention to women of color zinemakers and creators for inclusion in a forthcoming book, How Racism and Sexism Destroyed Traditional Media: Why The Future of Journalism Depends on Women and People of Color. The book's premise is that legacy or mainstream media -- for my purposes, newspapers, television and radio -- have lost their audiences because they have continued for too long to focus solely on white men, even as the nation grows increasingly diverse.
As the analog predecessors for social media and social networking, zines and their proliferation in our culture says something profound about the ability of the traditionally marginalized to center their narratives and define themselves outside of the mainstream. They reinforce the notion that when women, youth and people of color frame their own narratives, the topics are myriad, relevant and a significant departure from how stories are framed about these groups in traditional media spaces where their voices are largely absent. 
These are stories of protest, whether it is related to war, or it is related to inclusion in movements where women of color are generally ignored. That is a theme when it comes to the able-bodied versus those who have physical handicaps; the hard of hearing and deaf community, those who cut or self-mutilate who are often viewed as white women and not women of color; the ancillary discussion of the trans community and people of color in the history of LBTQ rights and so on. 

Cover from Mimi Thi Nguyen's website
Davida Gypsy Breier put it this way in Metazine, which was among the many articles I pored over during my time in the stacks:
"In the pre-internet days, when being read meant being printed, zine makers self-published because what they had to say and how they wanted to say it was of little interest to mainstream media sources. Individuals wanted to connect and for introverts and obsessives zines were paradise. In addition to be (sic) a creative outlet, zines functioned like a social network long before Mark Zuckerberg conceived of Facebook. Furthermore, zinemakers seemed to instinctively know that they were providing documentation for events and subcultures that would otherwise go unrepresented or be grossly misrepresented. It is and was very much an idea of media for the people, by the people." 
That notion of media for the people, by the people also has another thing in common with social networks: It allows a space or multiple spaces for correctives to stereotypes or misconceptions circulated in mainstream narratives. That included Homos in Herstory: 'Work-in-Progress' 1980s edition by Elvis Bakaitis, which critiques early erroneous articles about AIDS like a New York Times article that referred to HIV as a "homosexual disorder." I appreciated reading a hard copy of Mike Funk's Stonewall 1969, although BuzzFeed has immortalized this corrective to historical accounts, too. In Funk's words, "Media coverage of Stonewall brought Queer oppression to the mainstream. But many publications wrote about it as an uprising of white gay men. Journalists picked an angle, and soon, so did history." 
That last sentence is true for most events, if not all, in American history. What makes zines so remarkable is the range of topics that are covered, especially for the publications created by and for women of color. Topics range from fat shaming to anarchy; authors and audiences range from mixed raced women in Portland to Filipina punks in Oakland. Their creation of zines, both as a way to critique punk culture and to create their own individual narratives within a larger, marginalized narrative, is inspiring.
But the most surprising discovery I made during my research was in the pages of Yellow Kitty, where journalist Anita Chan wrote about the racism she experienced as an Asian American in predominantly white and male newsrooms. In the first volume, she wrote about racial assumptions. A few weeks after she started working at 1010 WINS an editor told her to read an article in the editorial section of the New York Times entitled "Asian American Achievement Rooted in Family Values." 'I was an Asian American, after all, and articles on fellow Asian Americans, especially when they appear in the New York Times (has the annual average surpassed single digits yet?) should concern me...naturally.'"
I was most interested in Chan's article, "Mediated Disillusionment: Stories about Nanking and Beyond," published in Yellow Kitty no. 2. She wrote about the sanitization of her reported story about the mass murder and rape in Nanking beginning in 1937 and her frustration with her colleagues:
"Here, I knew, was a chance to bring coverage to a community that remained virtually invisible in the pages of the paper, and to do so without mentioning either lion dances, red lanterns, or chop sticks. I only wondered how many of the paper's editors-- all of whom were self-identified 'Americans,' and only three of whom were of color (African American) were conscious of the same thing." 
In Yellow Kitty and online, she published the story with the significant details from survivors that her editors had taken out. "Never believe what you read in the news. Or if you do, always remember to ask yourself whose story is missing on the page. Because without question, there's always an Other story missing, buried in the back pages of paper, crammed into the corner of a page, or shoved into the margins -- that is, if it appears in the paper at all," Chan writes.
This illustrated for me the ongoing power of zines to circumvent mainstream news narratives about women and people of color and validated the importance of seeing that at work in the treasure that is the Barnard Zine Library.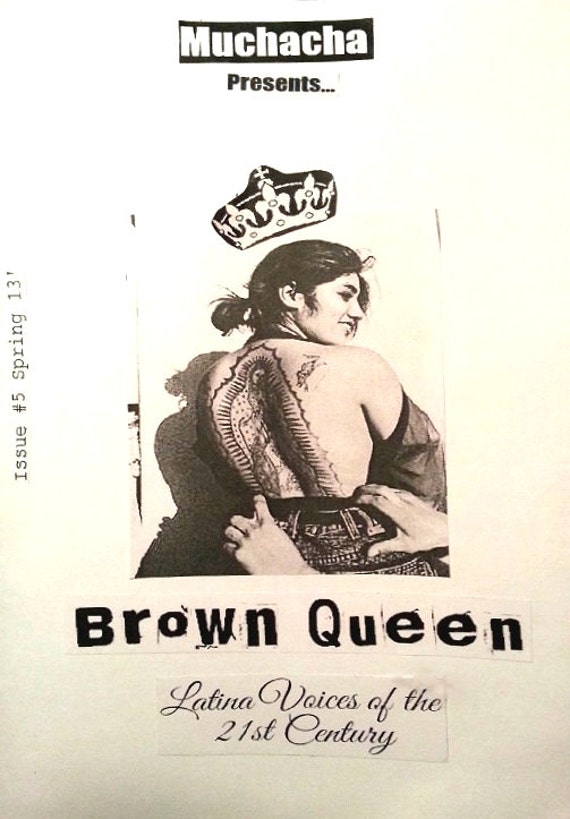 Cover from Muchacha Etsy shop and BCRW blog post