That's the Barnard Zine Library's BFF Daniela Capistrano from the POC Zine Project looking at the camera. Mwah!
 
An Exploration of Heart-Wrenching Soul Music Lyrics by Sy
Not actually cataloged yet because we need to re-scan it. 
A Five Minute Primer on the Proper Brewing of Tea by Thomas Kula
By a Columbia systems librarian. Spoiler: Thomas doesn't take his tea with milk or lemon, but acknowledges that they are popular additions. 
Flammable Turtle by Cat
Cat posits some of Barnard's reasons for banning turtles from its dorms. 
I Am Not a Contradiction: Reflections on Being a Queer Christian by Cat
"I'm working on acknowledging my religion's violent history and its role in our current patriarchal racist society. If I am going to stand up for what is good in the world, I can't ignore these facts." 
"Something I really love about Jesus is that he didn't get married and have a kid & a job. He spent all of his time with friends--most of whom were prostitutes & poor."
File under "Barnard students FTW." 
Journey by RAS
Lower East Side Librarian is Kale Enhanced by Jenna Freedman
The zine title refers to the kale guacamole we served at the event. The zine itself is about not having a good answer when someone asks "How are you?" or "What's new?"
Real Punks Don't Watch the Superbowl by Stephanie Mannheim
The title is inspired by something dumb someone said on Facebook, but the contents, by rising senior Stephanie, reflect on her time at Barnard, in NYC and in the comics communitiy. 
Recent Research Inquiries Submitted to the Barnard College Archives by Martha Tenney
Martha shares three disparate research questions--about women astronauts, Malcolm X's last speech and how to become an archivist. 
[space] by Rakhi
A Barnard student gets elemental. 
From the author--gift or purchase
Everyone Knows You Can't Get Emotional Stains Out of Carpets by Ya-Wen Ho
Photo from Matchbox Studios listing
Ya-Wen makes you work to read this series of "Dear You" letters, but they're worth the effort for sentences like this one:
"I learnt lingerie-posting etiquette for you, and you said 'I've got to go, my kebab is getting cold.'"
From the Ground Up: a Compilation Zine on Herbalism for Everyone #1 Herbalist to Herbalist by Margarat Nee and Kim Schwenk

Photo from the project's website. Btw, you can download the pdf yourself, if you want. 
Hi, Friend! Nice to Meet You! by Marya Errin Jones
Marya forgot to make business cards before the Zine Librarians (un)Conference, so she made a one-page folding-zine to hand around instead. 
MetaZine by Davida Gypsy Breier
A zine primer made by Davida for the Alt Press Fest sponsored by the Salt Lake City Public Library. (Hi Brooke Young!)
Mocha Chocolata Momma: Bessie Coleman by Marya Errin Jones
A bio/fanzine about the first Black woman aviator, this zine's visual style features old-school cut and paste and wingful, swirly collages.  
Lone Star Ma: the Magazine of Progressive Texas Parenting and Children's Issues #9 by Mariah Boone
A Mama's Calendar: 12 Months of Love & Struggle by Coleen Murphy
The first year back in New Orleans after Katrina, with photos, drawings and other contributions from other mama zine makers including Ayun Halliday, Vikki Law and China Martens.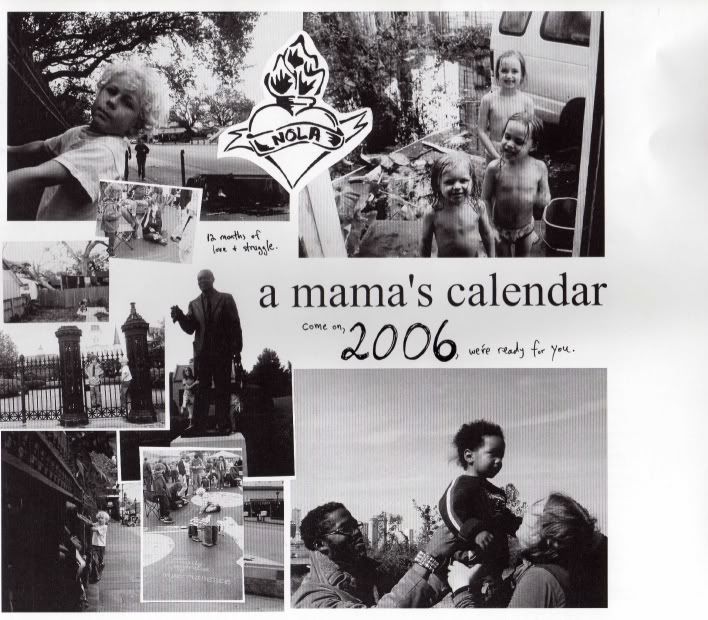 Zuzu and the Baby Catcher #10 by Rhonda Baker
Midwife, medical illustrator and sometimes reluctant mother Rhonda shares her adventures delivering Hutterite babies, getting a pebble extracted from her daughter's nose and generally navigating life and work (for the time being, as a stay-at-home mom) in PDX. 

New-to-us Library of Congress subject headings
Business cards--Specimens.
Christian college students.
Christian lesbians. 
Coleman, Bessie, 1896-1926.
Conversation.
Dormitories--Comic books, strips, etc.
Tea--Handbooks, manuals, etc.
Workaholics.