Brooklyn Zine Fest
Heartshaped #5 by Mary Reed, 2013. 
"Sometimes I like to spend a lot of time thinking about my memories, and wondering about the significance of certain small recollections- not the significance of the moment itself in my life, but the reasoning behind why my mind thought that was a good one to hold on to."
I Think I am in Friend-Love With You by Yumi Sakugawa, 2013. 

Indulgence #11 by Eleanor Whitney, 2013 (five years after the previous issue). 

"When I was a teenager listening to Sleater-Kinney's 'I wanna be your Joey Ramone' on repeat in a cluttered bedroom in a smal town in Maine I dreamed of the perfect rock band: it would be mostly girls with a feminist sensibility who were stylish but not slaves to fashion, athat wrote tightly constructed, high-energy, pop-focused rock songs." 
"...it wasn't until I was in my thirties that my rock'n'roll lifestyle came into its own. We wrote songs about the hazards of late capitalism, cinematic European daydreams, animal friends, human enemies, and escaping our day jobs."
Lady Teeth no. 1-2 by Taryn Hipp, 2012-13.

,
Milk and Moo, by Yumi Sakugawa, 2008. 

Our Roots: a zine by Barracuda Club, Girls Rock Philly, 2013. 
"A guitar reminds me of my family. Why? Because it always has a string broken or untuned. ... Dolphins are one of my roots because they make an 'E' string sound."
A Perpetual Calendar of Fortunes For You, by Katie Haegele, 2012 or 2013.
"Wednesday: You have to tell those people what it feels like to be you."
There Is No Right Way to Meditate by Yumi Sakugawa, 2010. 

Things #1: What Is Love? by Rachel Curry and Julie Orlick, 2013. 

Those Fucking Unicorns by Sy Wagon, originally published in 2004 and rereleased in 2012.


"Those Fucking Unicorns is a mini-publication that is definitely not kid friendly, or for anyone who is not sex friendly in general (lots of cocks in this). Just a little FYI for any potential unicorn lovers who just are into anything that has unicorns in it- this is XXX material, straight up."
What I Like in a Guy by Katie Haegele, 2012.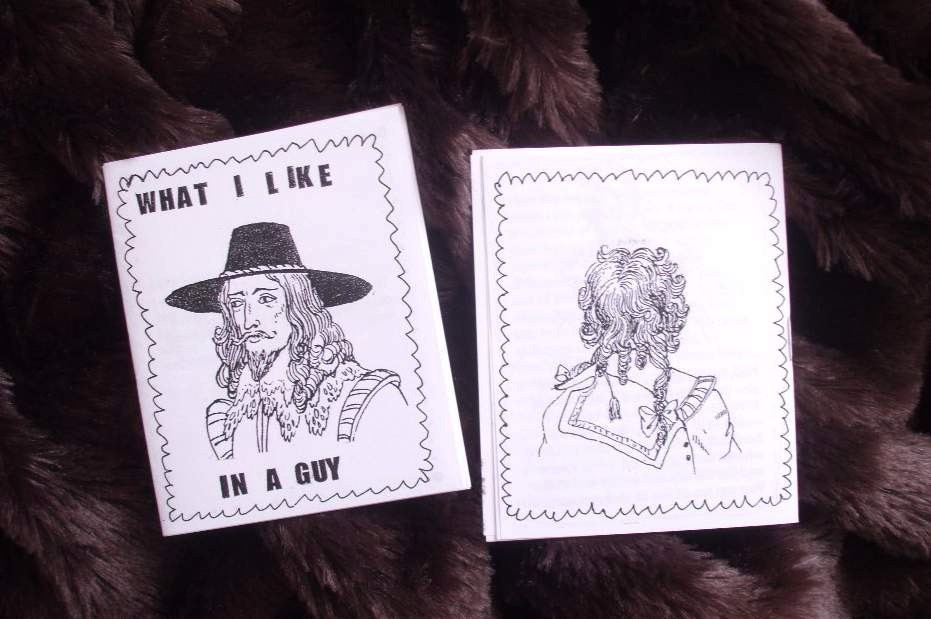 "...I really love seeing women friends together, like a group of women, of any age, out somewhere talking loudly and holding onto each other while they cackle. Why don't more men enjoy themselves in this way?"
Winter Here / Summer Here by Katie Haegele and Vanessa Berry, 2013. 
It's a northern/southern hemisphere split zine. 
Winter: "Maureen's notes were a combination of "news" and plans for our futures, when she'd be married to Neil Patrick Harris (who was then Doogie Howser, MD) and I'd be married to Axl Rose." If you know Katie, you might find the 7th grade version of her a little incongruous with her current iteration.
Summer: "The vice of which I am most ashamed, yet enjoy the most of all my vices is instant coffee."
 
Zines Through the Mail & Hand Delivered
The East Village Inky #52 by Ayun Halliday, 2013.
Ayun reflects on eighteen years in NYC, "Those cheap [rubber] bracelets [popularized by Desperately Seeking Susan] made me feel cooler than if I'd known what CBGB was. And gone there--instead of having Mom take my picture in front of the Eloise portrait after we had tea at the Plaza." ... "Somehow [my son] Milo made it onstage as a human prop for hula hoop artiste Ms. Saturn." ... "I also had the good fortune to stumble into the ever filthy Mars Bar one last time before it too vanished."
Ladybeard by Bastian Fox Phelan (gift of Sara Rosa), 2010. 
"The fucked up thing about beauty ideals is that you're made to feel that your imperfections are your fault, and the guilt drives you to 'fix' yourself."
New-to-us Subject Headings
Homosexuality in animals--Comic books, strips, etc. 
Meditation--Comic books, strips, etc.
Platonic love--Comic books, strips, etc. 
Unicorns--Sexual behavior--Comic books, strips, etc.