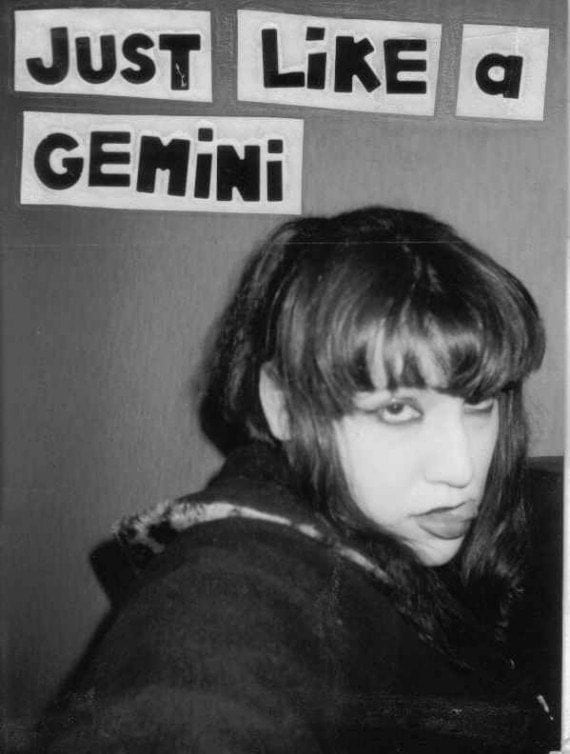 Have you ever noticed how many current and former zine makers have Gemini as a sun sign? Just Like a Gemini author Jolie Nuñez-Noggle is one, but also Margarita Alcantara, Andria Alefhi, Sara Jaffe, Lauren Jade Martin, Carrie McNinch, Celia Perez, Annie Pho, Alycia Sellie, Kelly Shortandqueer, Eleanor Whitney, and Alex Wrekk, to name those listed on my Facebook birthday calendar.
The people whose work I added to the catalog this week may or may not be Geminis. 
 
Gift of Cheryl Tapper
67 Boyfriends by Cindy Crabb, 1997?
"alright. so they's more than 67 & they're not all boys. They're certainly not all boyfriends. i mean, if almost any of them ever tried to call me their girlfriend I would have smacked them."
After School: Issues 1, 2, & 3 by Nia King, 2007
Being Real and Getting Clean by Theresa, 1996 or 1997?
Being Red: a Novelette by Heather Lynn, 1999
Besmirched #2 by Megan, 1995
Billy's Mitten #4, 7-9 by Theresa Molter, 1996-1997?
Bitch Dyke Whore #6: Fuck the Silence by Lisa, 1998?
"i'm still not even sure if i'm gonna print this. i never even really wrote about it in my own journal because writing it down makes it real, and before tonight it was easier to convince myself that i was making it all up. i still don't know anything for sure, but it doesn't matter because if this has been haunting me like this for two years, then there's obviously something going on and i need to talk about it."
Bitchcore #1 by Tasha Hairston, 1999
Red Charming Mini Catalog! no. 004 by Emily K. Larned, 2002
Tenderfoot #1: First Day of School by Jenna Weiss, 2003
It doesn't surprise me that on my first day of any sort of public education, I get beat up. Maybe "beat up" is an over-exaggeration; I don't know if preschoolers are capable of "beating someone up." But let's just say I was "physically assaulted" by my 4-year-old classmate. He came bearing down on me like a menacing dandelion puff.
Dan D. "Here I Am."
Who Is John Galt #2: Alphabet Soup by Kristin, 1996
Objectivist abecedary in which F is for "Feh."

Gift of Emily Nilsson
Remainders by Susie Cagle, 2009?

Cover from Optical Sloth
Lots of snarky commentary on surveillance on San Francisco activists, like

Also from Optical Sloth
My fave, not online is an Abercrombie for abstinence ad with a sexy "Boys want to buy me promise rings" camisole, 100% pure boxers a Life way code sleepover summer camp T-shirt, and Sarah Palin exclaiming "Maternity sizes available in Al'ska!"
 
Gift of the Creator
Some Thoughts on the Recent Controversy Surrounding the Brooklyn Zine Fest: Along with a Critique of the Present State of NYC Zine Culture and a Call to Improve it: a Statement by Two Exhibitors at This Year's Festival by Annie & Tim, 2015
Read the whole thing on Studium/PUNCTUM. 

New-to-Us Library of Congress Subject Headings
Objectivism (Philosophy).