Gift of the Author
Art Anagrams: Dead Giveaway by Évita Yumul, 2013

Cover from Pere Saguer
An Interview He Did Not Publish by Évita Yumul, 2013

Cover from Booklet Library
Photographs I Took (From Facebook) by Évita Yumul, 2013

Zine image from Booklet Library
Words Set to Music by Évita Yumul, 2013

Cover from Booklet Library

Purchased from the Author
All This Is Mine #18 by Sugene, 2013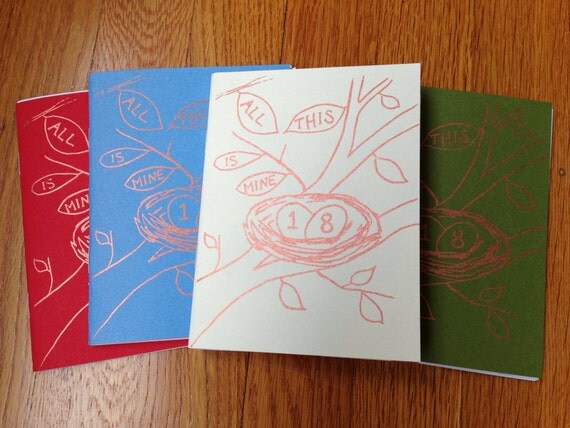 Photo from author's Etsy shop
Dangerous Damsels: Feminist Fairy Tales edited by Sarah Rose, 2012?

Cover photo from Pioneers Press
Ker-Bloom #103: Girls Rock Pittsburgh by artnoose, 2013. 

Cover from the author's Tumblr
"I facilitated a zine-making workshop where each camper worked on a page. Feminist body image rants ended up paginated directly opposite Taylor Swift collages."
No Condoms No Piece! Why Condoms Should Be Mandatory in Pornography by Harmonica, 2013

Cover from ZineWiki
Shards of Glass in Your Eye! #1-10 by Kari Tervo

Cover from Atomic Books
From a note accompanying my order, "Additionally, you'll notice that on the cover of one of the copies of #5, there is glued-on bacon. This means that copy is a first edition. The bacon fell off after the cover had already been proofed and it was printed without it, so I had to glue it on every cover. In the second print run, I saved my bacon." In case you were concerned, as I was, she's not talking about real bacon. Can you imagine?
Tazewell's Favorite Eccentric #10-15 by Sarah Rose, 2010-2013.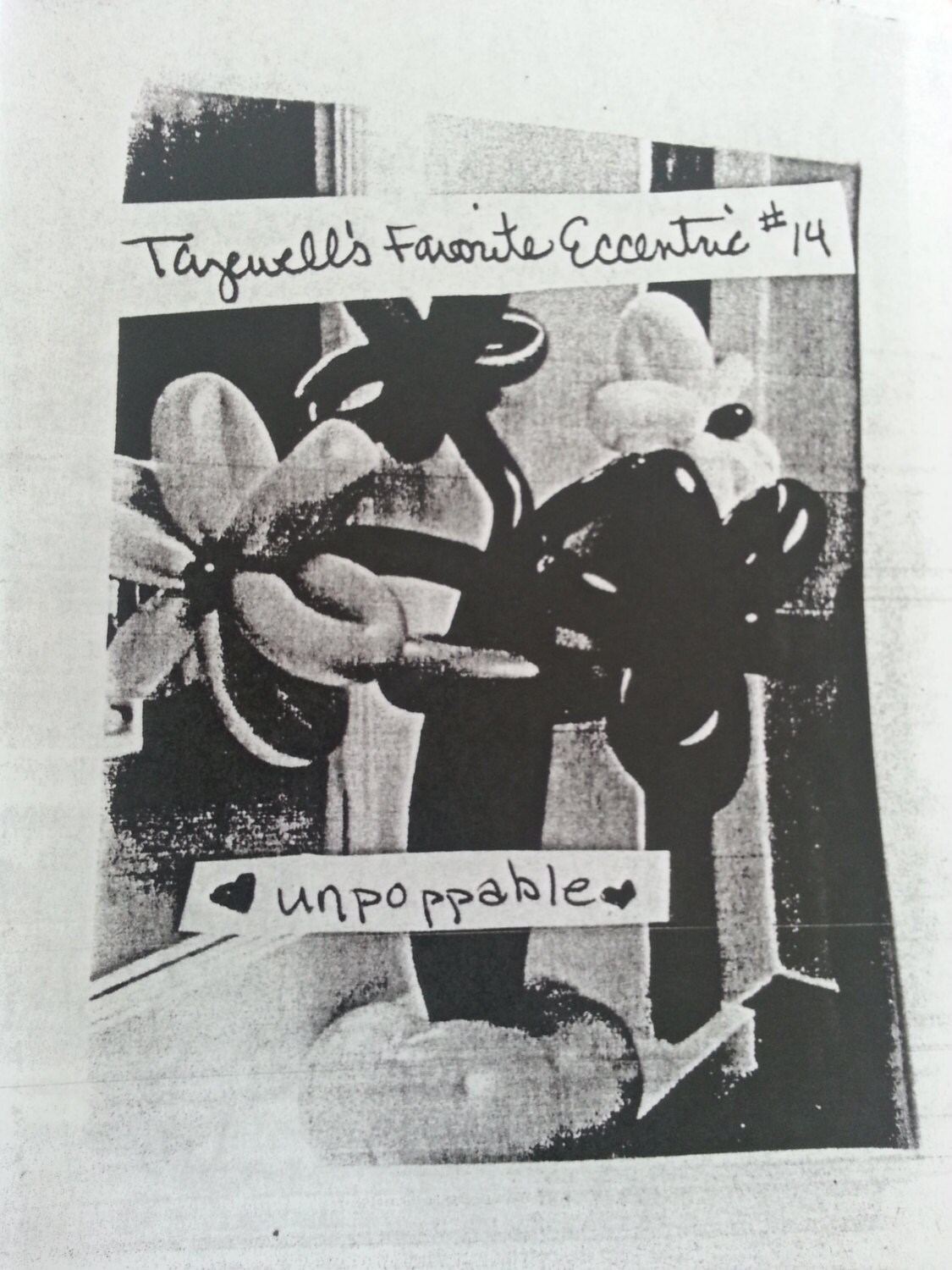 Cover from Etsy
On having survived a childhood of poverty, abuse and homophobia, "Mostly I'm not sad, I'm grateful and happy. But the happiness is always tinged with questions: why me and not them? What can I do with my life in a way that is both meaningful and honors the people I survived? Do I have any right to complain? To excavate this history? Isn't surviving it enough? And how will doing so affect my relationships with family? Do I owe it to myself? Do I owe it to anyone else?"
The Worth of Water, a Compzine About Self-Care by Sarah Rose, 2013

Cover photo from Pioneers Press
"Since every single thing in my life revolves around zines, I thought maybe we as a community could put our heads together and talk about the stuff that makes us feel better when things are shitty and stressful."
A zine that someone sold us that they later decided they didn't want in our catalog that I'm still sticking in our archives with a suppressed record because it's an important zine

New-to-Us Library of Congress Subject Headings
American wit and humor.
Balloon sculpture--Practice. 
Children of teenage mothers.
Periodical editors--Interviews