Confession: I didn't reach my weekly cataloging goal of 16 zines. A whole bunch of this batch had tables of contents, which take a long time to input, even if it's totally worth it to include them. 
Downloaded
The International Queer Art/Activism Zine Project by Miyuki Baker
#1: Ecuador, 2012  Zines B354i no.1 2012
#2: Argentina, 2012  Zines B354i no.2 2012
#3: Australia, 2012  Zines B354i no.3 2012
#4: Singapore, 2012 Zines B354i no.4 2012
#5: India, 2013  Zines B354i no.5 2013
Mellow Yellow, #s 3 & 4, 2010 & 2011  Zines H654m
 
Gift of the Author
Call, edited collection, 2013. PDF, may take a while to load.  Zines U45c 2013
Entering the table of contents into the catalog record gave Connexion's diacritics a workout. Much of the zine is in German, but there are some cat photos, so you'll be able to relate even if you kein Deutsche sprechen. 
Collide: on Physical Disabilities edited by JC, 2013  Zines P3754c

Cover from Stranger Danger Distro
In which you discover that people you thought had it all together are just as messed up and insecure as you are. 
Curiositer #s 1-4 by Kelly, 2013  Zines M345c
Zines after a librarian's heart, each with it's own set of SWBATs at the beginning. 
#1 is about information literacy, like "But I really worry about whether our collective ability to poke & prod & chisel out oddly shaped pieces of information is just withering. Just because Google doesn't have it doesn't mean it doesn't exist. The real key is sorting out when that matters. If I can't find Prince music videos on YouTube I will be sad but not hugely hindered. But the fact that statistics about police stops in my community are not readily available? That has the potential to affect policies & understanding of justice (or injustice) in a real way."
Kelly also challenges Roy Tennant's "Only librarians like to search; everyone else likes to find." routine with a food analogy. 
#2 gives you a worksheet for definining your question. 
#3 is about how information is organized ♥
#4 assures readers that "It is okay to ask!" and includes a hand drawn Venn diagram
The reader also comes to understand that Kelly is something of a Jay-Z fan. 
Deafula #6: Tour Stories by Kerri Radley, 2013  Zines C58d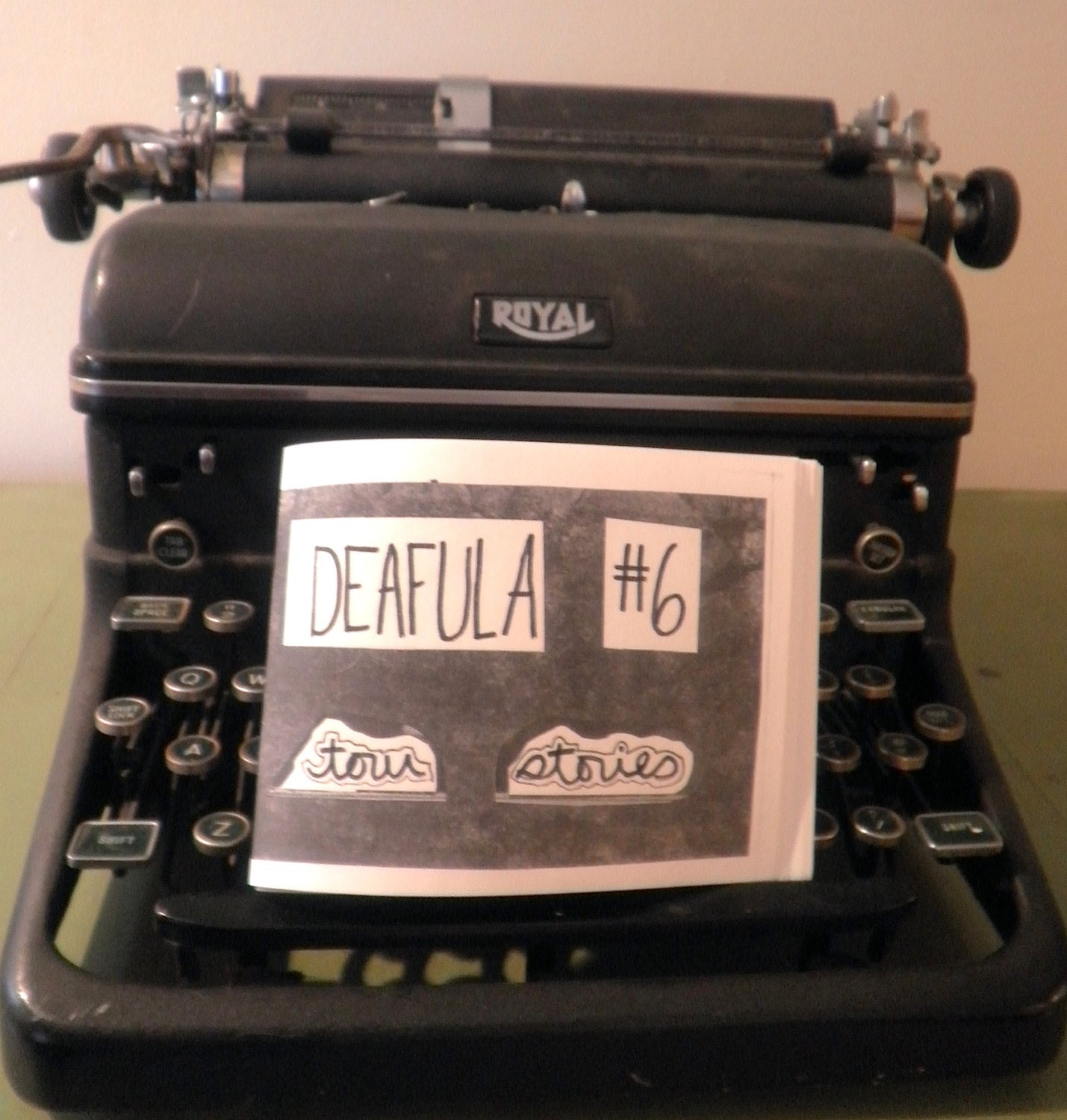 Number of times the word "fuck*" appears: 14 (unless I missed some)
Kerri confesses that she's never seen an episode of The Golden Girls and shares how helpful it is if readers provide her with a copy of what they're going to read so she can follow along.  
Leeking Ink #32: Vida Silvestre by Davida Gypsy Breier, 2013 Zines B745l
Written about six years after #31, this zine chronicles Davida & family's trip to Puerto Rico. 

New-to-Us Library of Congress Subject Headings
Argentina--Description and travel.
Australia--Description and travel.
Ecuador--Description and travel.
India--Description and travel.
Library orientation--Study and teaching. 
Reference services (Libraries). 
Rheumatoid arthritis in children. 
Singapore--Description and travel.